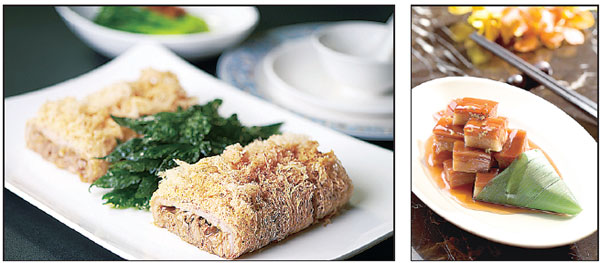 Sweet scented lotus roots with glutinous rice from Xindalu, Hyatt on the Bund (right), and taro and duck (left).[Photos provided to China Daily]
Every traditional holiday in China is centered around food. For the Mid-Autumn Festival, a day of family reunion, the festive delicacies are unusually humble and homey, made from some of the most common seasonal specialties in a simplistic way.
Taro and duck
If mashed potatoes and turkey are the signature pairing in the American Thanksgiving meal, then taro and duck can be said to best represent the Mid-Autumn meal in Shanghai.
Duck and taro are common enough ingredients all over China, and in the professional and private kitchens, there have been countless recipes developed with these.
The soup-loving Cantonese stew them together for a slow-cooked broth, which, according to the principles of traditional Chinese medicine, will moisten the dryness of the body in autumn.
In east China's Yangtze River Del-ta region, this dish becomes much simpler.
The taro is skinned, cut and stir-fried with scallion and salt before it is cooked with duck. The most popular type is the Nanjing salted duck, whose tender white meat is fatty but not greasy.
The salted duck's fame has gone far beyond the capital city of Jiangsu province and made it to the tables of neighboring cities like Shanghai and Hangzhou.
Duck is considered the best choice of meat because connoisseurs believe that they are naturally scented with the sweet aroma of osmanthus flowers during autumn.
Shops selling ducks perpetuate this belief by seasoning their ducks with osmanthus as well.