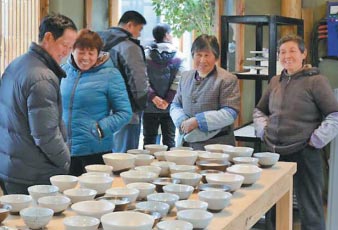 Villagers in Bishan visit a show displaying products made by local artisans and designers at an exhibition center that used to be a barn. [Photo provided to China Daily]
As dusk falls on Bishan village in Anhui province a bar is crammed with villagers downing bloody marys and margaritas after a hard day's toil on the farm. The bar's name, Dog's Bistro, and the interior decorating are straight out of England, yet of the many locals enjoying the evening here, some have never crossed the borders of Anhui province.
Outside the bar, the rest of the village, made up of several hundred white houses with black-tiled upturned eaves, Hui-style architecture common in the area, falls into slumber.
Li Guoyu, owner of the bistro, says the cocktails ritual is the way villagers indulge their fantasies about living like city slickers, and one of the kicks this gives them is knowing that no other villages in these parts can claim to have a bar.
Yet at one stage it seemed that the days of Bishan village, like many similar villages in China, were numbered, many of their inhabitants moving away into cities and leaving an increasingly elderly population to tend to traditional houses, many of them hundreds of years old that had fallen into disrepair.
Migratory flow
Then, about 10 years ago, the nature of that migratory flow, until then a one-way torrent, began to change as urban dwellers, not quite happy with their lot in the urban jungle, began to see the beauty and attractions of the likes of Bishan village.
Thus people like Li began to move to the village, at the foothill of Bishan Mountain, and their desire to be closer to nature turned into something else: a mission to revive the village.
Li came from Shanghai in 2007 and renovated a house about 400 years old, transforming it into a family hotel, and it eventually attracted travelers from home and abroad.
In that regard she was a pioneer, and three years ago she and her husband bought a run-down oil factory and transformed it into another hotel furnished with local-style items, and it is now rated a must-see spot in the travel guide Lonely Planet.
Later, Ou Ling, an artist, moved to the village as a member of the Bishan Project, a plan to revive the traditions and artisanship of Bishan. A bookshop specializing in arts opened at an ancestral hall in the village center and an exhibition center was set up in a barn.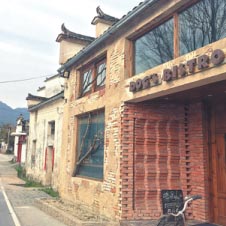 Dog's Bistro [Photo provided to China Daily]
Bamboo products
A show displaying products made by designers and artisans in Bishan opened in the exhibition center early this year and attracted hundreds of curious locals. Yao Jiaju, a craftsman who makes articles using bamboo strips, has his products on display in the exhibition.
"I never realized products made of bamboo strips could really be treated as works of art," Yao, 65, says. Like the village as a whole, he had to adapt over the years as the urban exodus took hold. He lost the three apprentices he used to employ, and he was forced to do something else to make a living.
"With bamboo it was next to impossible to support my family," he says.
However, a year ago several designers suggested he could work with them in producing goods made of bamboo. Years ago many in the village made their living that way thanks to the abundance of bamboo in the area, but Yao was convinced that any potential buyers of such goods in cities had written off the craft as not worth the candle.
Now Yao's products include a Chinese chessboard, covers and caps for cups and bottles, all made with bamboo strips.
"They're different to what I used to do. These designs are more delicate and refined."
If these items sell well his children who live in a town may even be able to return to the village and learn the craft from him, he says.
Zhou Yi, who stayed at Bishan for several months and helped organize the exhibition, says most villagers seemed a little dubious when they were told items made by ironsmiths, carpenters and lacquer workers in their village would be on displayed in the show.
In fact, at first locals regarded the show in the exhibition center as alien as a bar that sells margaritas and a bookshop in the village whose wares include a biography of the American pop art exponent Andy Warhol.
Explaining the raison d'etre for the exhibition, Zhou says: "Travelers are intrigued by the local culture and landscape. At the same time, villagers can make a living out of crafts and tourist-related business."
It is also a public space for locals to read books, listen to lectures and visit shows, she says.
With a plethora of cultural activities, Bishan has attracted attention from media and tourists from around the world to visit the village.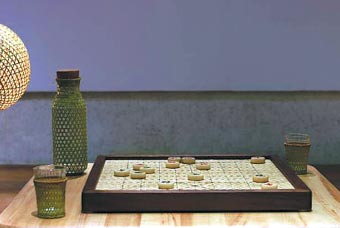 Bamboo chess made by Yao Jiaju and designers. [Photo provided to China Daily]
Industry awards
Many locals have got into the hospitality industry, and for many of them Li's hotels and how they are decorated and run serve as a reference point. However, in many cases those looking for clues to how they can succeed do not get Li's drift.
"They come and look at the way the hotels have been done up, and they don't like it," he says. "They think they are ugly and they don't understand why travelers would like them."
Thankfully for Li, that skepticism is not universal, and her hotels, decorated old furniture bought locally and made to give a traditional Hui-style feel, have won a bundle of industry awards.
"Villagers think streets in big cities like Beijing are beautiful, and that houses with big rooms and fancy furniture have got a lot of charm," she says.
Li, who has lived in Bishan for 12 years now, has seen the village change over the years as more people have moved in, and she seems to be skeptical about whether that has been to the village's benefit, although for the moment she is withholding a definitive verdict.
Earlier this year, Ou Ning, an artist who started the rural development project in Bishan, sold his house and moved out.