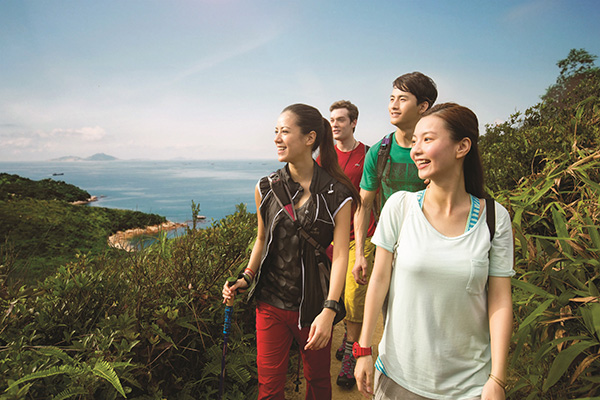 The Hong Kong Tourism Board recently unveiled a series of travel deals in Beijing. [Photo provided to China Daily]
Hong Kong has launched a host of special tourism packages to woo mainlanders.
The Hong Kong Tourism Board recently unveiled a series of travel deals, from air tickets and accommodation to shopping and catering, at a press conference in Beijing on May 23.
The promotion is part of Hong Kong's plans to mark the 20th anniversary of its return to China.
The anniversary is an important opportunity to bring together tourism players and local retailers and give mainlanders more reason to travel to the city, says Becky Ip, the deputy executive director of the Hong Kong Tourism Board.
"More importantly, we want to show tourists a better Hong Kong," she says.
For the promotions, the city has teamed up with travel service platform Fliggy under Alibaba and several airlines, including Cathay Pacific Airways, Hong Kong Airlines, Air China and China Eastern Airlines to offer air tickets and tourism packages to visitors from the mainland.
Fliggy will offer 50,000 VIP cards in June, each valued at about 300 yuan, for visitors to use at Cathay Pacific Airways, Hong Kong Disneyland, Ocean Park and Madame Tussaud's.
Red packets (cash or coupons) worth 1.1 million yuan will be up for grabs at the Fliggy and Alipay platforms.
Moreover, members of the city's Quality Tourism Service Association will offer discounts on skin care, health, jewelry and catering.
Separately, visitors can get free coupon books at 210 hotels and travel agencies in Hong Kong before Sept 30, and coupons can be used for transport, at scenic spots and at restaurants.
Meanwhile, Hong Kong has witnessed tremendous growth in visitor numbers from the mainland.
Mainlanders paid 42.77 million visits to Hong Kong in 2016, compared with 2.36 million in 1997.
The city is the first stop for outbound trips for many mainlanders, says Li Shaohua, the president of Fliggy.
Many mainland travellers also opt for Hong Kong as a transfer point before going further afield, which could save them 10-20 percent in flight costs, says Fliggy.
Travelers between 26 and 35 are the biggest group visiting Hong Kong, and clothes, snacks, cosmetics, shoes and handbags are the top items on their shopping lists, says Li.