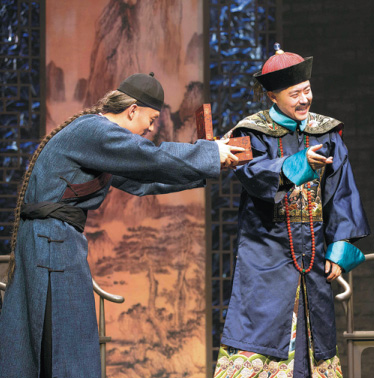 The original play by the Shanghai Dramatic Arts Center Chen Tingjing. [Photo provided to China Daily]
The Shanghai Dramatic Arts Center will launch a performance season in Beijing by introducing nine theatrical productions from Aug 2 to Oct 29.
"Our mission is to stage original Chinese plays and Western classics. For decades, we have been keeping the tradition," says Zhang Huiqing, vice-director of Shanghai Dramatic Arts Center. The center was founded in 1995 by two established theaters, Shanghai People's Art Theater and Shanghai Youth Drama Troupe.
This third season will see three original plays, including Chen Tingjing, based on Chinese writer Wang Yuewen's novel with the same title, about an official in the Qing Dynasty (1644-1911) named Chen Tingjing who fought against corruption; The Salty Taste of Cappuccino, a contemporary romantic story that premiered in 2002 and talks about a contemporary romantic story; and Lu Xun Blossoms, which was a joint production of the center and Canada's Smith Gilmour Theater in 2007, based on five short stories by famous Chinese writer Lu Xun.
Six adaptations of Western classical plays will be staged during the event.
In 2013, the Shanghai center launched a five-year plan to adapt highly recognized classic plays from other countries every year. Its productions have come to the capital twice before, in 2013 and then in 2015.
One play in the project is Uncle Vanya, directed by Russian director Adolf Shapiro and featuring Lyu Liang, a veteran actor, theater director and artistic director of the center, and veteran actress Zheng Yuzhi.
Anton Chekhov's play Uncle Vanya was published in 1897, and premiered two years later, directed by Konstantin Stanislavski.
Shapiro studied under Stanislavski's student Maria Knebel. He is internationally famous for directing plays by Chekhov and Bertolt Brecht.
"I have spent my whole life working in theaters and Uncle Vanya is one of my favorite plays," says Zheng Yuzhi, 80, who performs in the drama. "With the Russian director, we want to go back to tradition and hopefully audiences will appreciate the effort, especially the young people."
In 2007, the center teamed up with the Shanghai-based Mousetrap Drama Studio, which focuses on adapting Agatha Christie's stories into stage plays, and adapted her popular thriller And Then There Were None into a play.
The play, which has toured around Chinese cities including Beijing, Nanjing and Hangzhou and has been watched by more than 450,000 people, will come to Beijing again.
Other highlights of the season include Doubt, A Parable, a 2004 Pulitzer Prizewinning play by John Patrick Shanley, which was adapted by the Shanghai center in 2010; 12 Angry Men, by American scriptwriter Reginald Rose, which premiered in Shanghai in 2012; and Noises Off, a play-within-a-play by English playwright Michael Frayn, which was adapted into a Chinese production and staged in Shanghai in 2005.