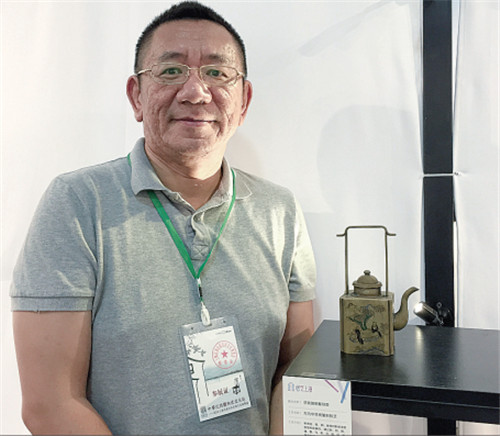 Gu Qin, a metal carving artist and an experienced designer of Chinese gardens. [Photo provided to China Daily]
When Gu Qin was a schoolboy, he used to help with his father's metal carving work in order to earn pocket money.
Today, Gu has come full circle by carrying on his father's legacy and promoting the craft-it is recognized as one of Shanghai's intangible cultural heritages-in foreign lands.
Gu's creations of iron teapots featuring elaborate metal carvings, as well as a collection of carving patterns, showcased at the Exhibition of Chinese Industry and Commerce in Los Angeles, California in January.
Gu is an experienced designer of Chinese gardens too. His designs were exhibited at the 2008 Shanghai Design Biennale.
"Many second- and third-generation immigrants from China in America are interested in having traditional Chinese garden art in their backyards. It is their way of finding some connection with their home and discovering their cultural identity," said Gu.
Gu has through the decades been documenting carving patterns found in ancient works as well as vintage buildings and gardens. With the help of his students at the Shanghai Institute of Technology, Gu has to date documented hundreds of designs of ancient Chinese garden windows, paths and handrails.
"They come from the same cultural root and they often represent the philosophy of the owner of the place. Such patterns can always be adapted for metal carving," said Gu.
The craft of metal carving, called zan ke in Chinese, has been passed down three generations in the Gu family. While their ancestors hailed from Wuxi, Jiangsu province, Gu's father had moved his family to Shanghai in order to provide his children with more modern education.
Following the completion of his studies in civil engineering, the patriarch Gu Zheng worked as a craftsman who restored ancient architecture in Shanghai. Metal carving later became a side project that he would work on during his spare time.
"There was a time when the municipality recruited craftsmen to create pieces for export. As it was easier to carve on flat surfaces than those with curves, my father allowed me to try my hand at it," recalled Gu of his introduction to the craft.
According to Gu, metal carving was popularized during the Ming Dynasty (1368-1644) when metal plates decorated with carvings were widely used to strengthen mortise joints. The craft was also commonly applied to furniture pieces and other household wares. In southwestern China, metal carving was also commonly employed in jewelry design while in north China, the craft was used in cloisonné art.
While computer programming today enables accurate and quick reproduction of metal carvings, be it in restored gardens or on antique furniture pieces, Gu argues that machines lack the human touch.
"With the help of computer technology, machinery can easily repeat carvings accurately, however many times you need. But it is still extremely important to preserve traditional designs and patterns. This is, after all, the core of heritage," said Gu.