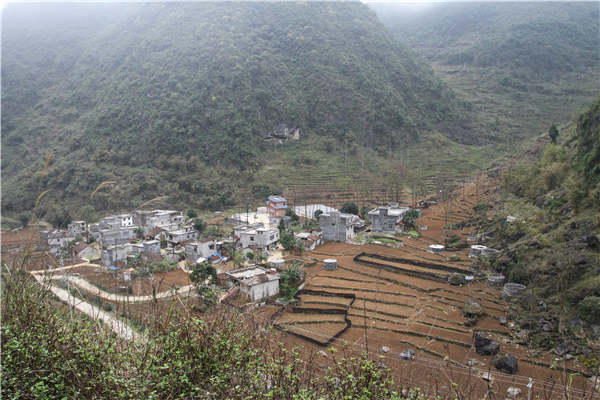 A view of Nongjing village, Guangxi Zhuang autonomous region. Photos by Zhang Li / China Daily and Provided To China Daily
As China aims to eradicate poverty, residents of a rural pocket in the country's south breed scorpions for livelihood support
Amid the green vegetation on the outskirts of a small town in the Guangxi Zhuang autonomous region, a dirt track leads to a village in a valley, molded in karst landscape.
The Yao ethnic group is the dominant population in Nongjing and a few neighboring villages that are three hours or so by road from the autonomous region's capital Nanning. And while southern China is largely associated with affluence, some of its rural pockets have yet to ascend the development graph.
In Guangxi, 3.41 million people still live in poverty.
But Nongjing has recently found a fascinating way to enhance the livelihoods of its nearly 60 resident families - breeding scorpions.
As China seeks to end absolute poverty by 2020, such projects are expected to help the affected both have short-term earnings and build on entrepreneurial skills for later use.
China's poverty line is measured at the annual household income of 2,300 yuan ($335). By this 2010 standard, the country's impoverished population stands at 43.35 million, data show.
In March, the central government's work report said 12.4 million were lifted out of poverty last year. Financial aid for poverty reduction programs has exceeded 100 billion yuan.
Hu Angang, an influential economist from Tsinghua University, says China is meeting poverty reduction targets ahead of its Five-Year Plan schedules. He predicts that by the end of the decade, households in the country will be identified for assistance on the basis of their minimum insurance coverage.
Nongjing's scorpion farm, established with a government fund of 1 million yuan in September, now employees 10 locals on a full-time basis and several others for part-time work, including four women, Qiu Xiaojun, a 34-year-old civil servant, says. He has been deputed by the Guangxi government to oversee daily operations at the site.
"Once trained a person can earn between 2,000 and 3,000 yuan a month here," Qiu says. "We are providing the villagers with an income source as well as technical knowledge so that they can set up their own businesses in future."