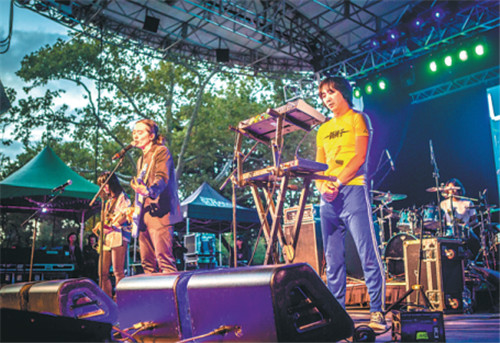 The band New Pants performing during the festival. [Photo Provided to China Daily]
Shen Lihui's Modern Sky music label is one of the largest of its kind in China having released over 200 records for Chinese indie musicians
Growing up in Beijing during the 1970s as an art student, Shen Lihui listened to Western bands from cassettes. He formed his own band, Sober, in 1988, with a group of like-minded friends.
But one of Shen's dreams then was to release a full-length album. However, no record company wanted to do it. So, in 1997, he started his own label, Modern Sky, and fulfilled his dream by releasing an album for Sober, titled Hao Ji Le, or Super Good.
Later, he signed two more bands - New Pants and Supermarket.
Twenty years on, the label is the largest of its kind in China, having released over 200 records for Chinese indie musicians.
Since 2007, it has also held the annual Strawberry Music Festival in Beijing and now the outdoor music festival is held in around 20 cities in China every year attracting tens of thousands of music lovers.
Besides, it holds the smaller Modern Sky Festival in New York, Seattle and Helsinki, showcasing Chinese talent, such as rock band Queen Sea Big Shark and folk-rock band Second Hand Rose.
Shen also expanded into online music live streaming with Modern Sky NOW, which has several million subscribers, and also has a host of other assets, including radio stations, venues and art and fashion brands.