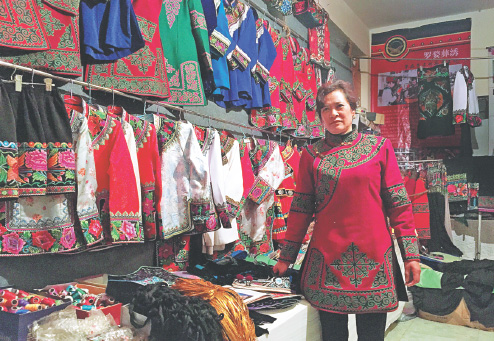 Wang Zonghui runs a shop, which sells Yi embroidery costumes, in Yunnan province's Luquan Yi and Miao autonomous county. [Photo by Yang Feiyue/China Daily]
Wang Zonghui never expected a skill she learned as a child would help her become an artist and create wealth in her isolated hometown. Wang, who lived in Sayingpan town in Yunnan province's Luquan Yi and Miao autonomous county, learned ethnic Yi embroidery as a girl.
Recalling those days, she says: "My father told me I would not be able to get married if I did not know how to embroider."
Her initial skills were picked up from her mother, who learned them from her mother.
Luquan is said to have the largest concentration of ethnic Yi people in Kunming and its relative seclusion from the outside world has ensured that local Yi embroidery retains its traditional elements.
The art varies with clothes made for different age groups.
Clothes for elderly women mostly feature blue cloth and round collars, and trees, flowers, butterflies and birds are embroidered on the shoulders and sleeves of the outfits.
A belt made of black cloth and embellished with silver and aluminum decorations give the accessory a three-dimensional look, lending the outfit a simple and elegant look.
Outfits for younger women comprise a red hat embroidered with three black or blue flowers. The whole costume is mostly red and green.