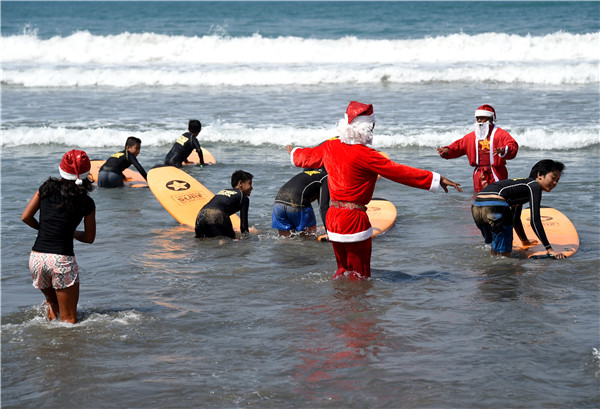 Surfers dressed in Santa Claus outfits teach children to surf on Kuta beach on Indonesia's resort island of Bali. The popular resort island, a pocket of Hindu culture in a country with the biggest Muslim population in the world, receives thousands of tourists every year over the Christmas season. [Photo/Agencies]
Indonesia's famous tour destination, the resort island of Bali, has been picked by prominent traveling reviewer website TripAdvisor as the most popular year-end destination for the period of Dec 1 2016 to Feb 28, 2017. The latest international recognition on Bali has made Indonesia's Tourism Minister Arief Yahya upbeat about meeting the target for number of foreign visitors this year initially set at 12 million.
The minister said that as of October the number of foreign visitors visiting the country stood at expected figure.
"Through the go digital system, we are more optimistic in achieving the targets which have been increasing from time to time," the minister said in a recent statement to respond TripAdvisor's advantageous pick on Bali.
The minister referred to the digital technology system applied in tourism sector launched in September, aimed at digitizing the coordinated activities to address government's targets in the sector.
Indonesia has set a target to see 20 million foreign visitors by 2019, higher than 12 and 15 million ones set for this year and next year respectively. The 2019 target was doubled from 10 million recorded last year.
Government is now developing 10 new tour destinations across the nation, dubbed as New Bali, highly expected to par with Bali in term of attracting the tourists.
Indonesian President Joko Widodo has previously pledged to improve budget allocation up to five times higher to further boost tourism sector which has been declared as the nation's core business.
According to the data released by the tourism ministry, Bali contributes 40 percent of total foreign visitors visiting Indonesia.
Bali was awarded as the best tour destination in Asia and the runner up in global level by Travel+Leisure magazine in 2015.
Bali was also regarded as one of world's best places to host triathlon sports event, according to AsiaTri.com, a renowned website covering the tourism sports events.
Bali offers diverse of tourism attractions comprised of adventure, underwater, tourism sports, cultural and traditional events, beautiful beaches, shrines, society and cultural landmark places.