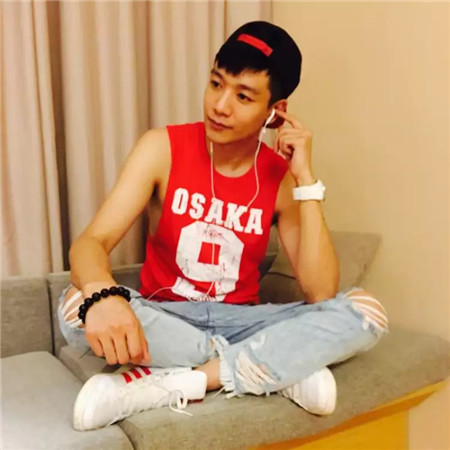 Zhang Xin, TV drama actor. [Photo provided to China Daily]
Zhang Xin was ecstatic to be recording his first song in a recording studio. In the past he had only sung cover songs using the popular mobile karaoke app Changba.
The recording session marked the first time on which Changba had made a professional recording for one of for its celebrity users.
"The app offers those who want to showcase their talent a platform," says Zhang, 29, from Haicheng in Liaoning province.
"I never imagined that one day I would be a real singer. I lacked confidence because I knew I still had a lot to learn. I'm so excited to have my own song recorded."
Zhang, who studied drama and film performance at university, went on to look after a family business and now his work consists mostly of singing using the app and being a TV drama actor.
"As long as you have your own style of singing, fans will like it," he says. "If you sing in much the same way as the original singer, why wouldn't they just listen to the original?"
Ethnic and popular songs are his specialty, and he has more than 790,000 followers on the app, many of whom laud his good looks, gentle voice and positive outlook.
About 95 percent of his fans are female, and most are aged 20 to 30. He even has fans of kindergarten age because their mothers have played his nursery rhymes to them.
"At first my fans liked the way I sang, and now they like whatever I sing. The more I read their comments and get to know them, the more touched I am."
His fans send him gifts such as a handmade photography albums, and the most supportive followers are always on hand when he sings and show up wherever he is performing.
In January he was invited to Changba's annual awarding ceremony for its celebrities in Beijing and performed onstage. When the show was over his fans waited and took turns to take photos with him until others all left.
"It was very cold, but they just kept their mobile phones in hand taking pictures, without gloves."
He started to use the app at the end of 2012, and about six months later, when he was at the seaside with his family he videotaped himself singing a popular song.
"I was moved by the beautiful sunset and fishing boats, and the idea came to me to sing a song about the sea and affection between family members."
That was the first one of his songs to appear on the app's ranking list, and he has since had widespread praise and encouragement to keep on singing.
With singing contests he has limited himself to those organized for apps, the winners of which stand to collect prizes or be offered paid gigs at functions such as the unveiling of new car models. The app would also recommend celebrities like Zhang for advertisement opportunities.
Those performing through live streaming can also make money, the amount depending on virtual gifts sent by admirers.
Zhang will not say how much he earns through the app, but does say that at first he could barely make ends meet but now earns enough to get by on.
He often spends two or three hours on the app every day, he says, and if he is in the mood he uses his mobile phone to record a song that best suits the way he is feeling. Singing relaxes him, he says.