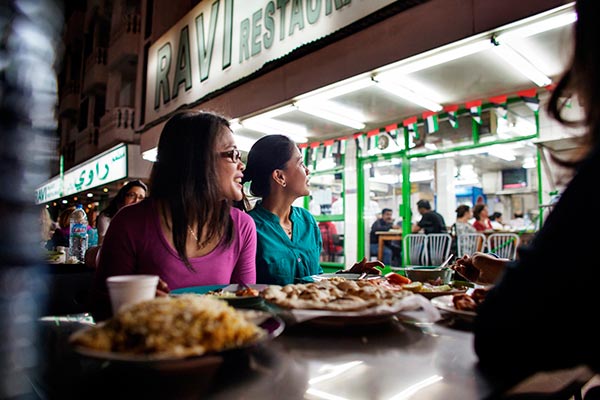 Tourists enjoy Dubai's delicious food, unique culture and pretty scenery. [Photo provided to China Daily]
Chinese tourist Wang Xuemei was a bit apprehensive when several dolphins swam toward her and kissed her on the cheeks.
This is part of the Dolphin Encounter Program at the Dolphin Bay in Atlantis, Dubai, which allows visitors to play with dolphins in shallow water.
"Dolphins are so adorable! Dubai is really a modern city, much more than I expected. I like the tranquillity when I see the desert from a car, especially at sunset," says Wang, 30, an office worker from Beijing.
Last December, she took a six-day trip in Dubai.
Since Nov 1, the United Arab Emirates has been granting a free 30-day visa-on-arrival to Chinese citizens.
It is good news for those who want to explore the Dubai's unique culture and scenery.
"Dubai is attractive for all kinds of travelers-individual tourists and families and leisure and business travelers," says Hamad M Bin Mejren, senior vice-president of Dubai Events and Convention Bureau.