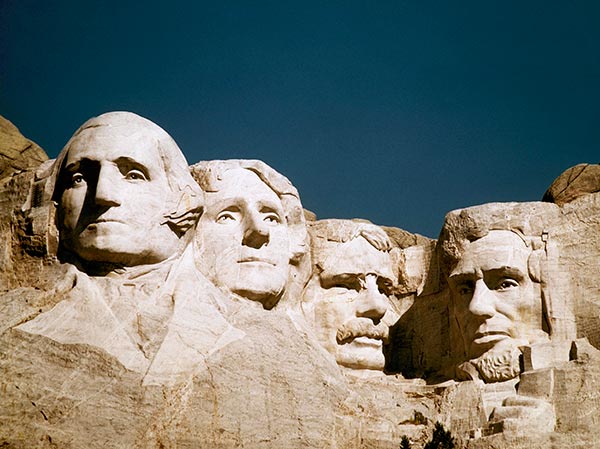 The Mount Rushmore National Memorial is in the Black Hills near Keystone, South Dakota. [Photo/Agencies]
It was a historian's idea: carve gigantic sculptures into the granite pinnacles of the Black Hills of South Dakota, significant Western figures like Lewis and Clark, Buffalo Bill Cody, Fremont, Red Cloud and Sacagawea.
"In the vicinity of Harney Peak ... are opportunities for heroic sculpture," South Dakota Department of History Superintendent Doane Robinson wrote to a sculptor in Georgia in 1924.
The sculptor, Gutzon Borglum, redefined the project entirely. Using jackhammers and dynamite, he began in 1927, first sculpting President George Washington, then Thomas Jefferson, followed by Abraham Lincoln and finally Theodore Roosevelt.
This month, Mount Rushmore National Memorial marks 75 years of public pervasiveness, ending up in movies and comics and on quarter-dollar coins.
"Burglum told Robinson 'You are not thinking big enough. Western figures? That's not going to attract enough people. You need to think bigger,'" says Maureen McGee-Ballinger, the memorial's chief of interpretation and education.
Robinson was looking for ways to promote the state, particularly the Black Hills, McGee-Ballinger said. Plan B surely has served that purpose, with about 3 million people visiting every year.
"For the state, and the nation, Mount Rushmore is quite iconic," South Dakota State Historical Society Director Jay Vogt says. "It definitely put South Dakota on the map as a destination ... Because these are elected individuals on the mountain, who worked hard to preserve a nation whose creation was unique in and of itself, it really speaks to the idea that we are a country of free people."