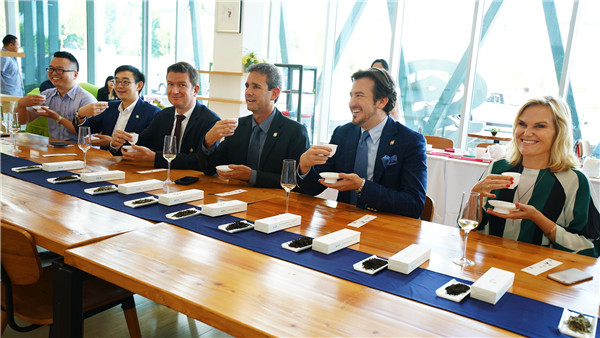 Foreign members of Pudong Overseas Youth Association learn about Chinese tea during their first gathering in Shanghai. [Provided to China Daily]
Thirty outstanding expatriates from various industries in Shanghai, and who are also residents of Pudong New Area, became the first batch of members of the Pudong Overseas Youth Association (POYA) during its unveiling ceremony last month.
POYA, founded by the Pudong New Area International Exchange Center and the Pudong Youth Federation, is a platform with which foreigners can use to learn more about Chinese culture, scientific innovations and the latest local policies.
Cultural events, workshops, seminars and other themed activities will be organized regularly for these foreign talent to meet and network, says Jiang Weiwei, director of Pudong New Area International Exchange Center.
The 30 members are all aged under 45 and they hail from 19 countries and 28 companies or institutions in Shanghai. There are more than 72,000 foreigners living and working in Pudong.
"The first batch of 30 members are longtime residents of Pudong and are influential in their own fields, most of which are Pudong's pillar industries," said Jiang.
Jiang expressed hope that POYA's members can become ambassadors of Shanghai's expat community and attract more people who share in the enthusiasm of developing Pudong.
Chen Xi, chairman of Shanghai Pudong Youth Federation, says they have considered setting up such an association as early as a year ago, having realized that the expat community in the city has been growing rapidly.
"These expats have contributed greatly to the development of Pudong and we hope they will enjoy a good life here. We hope that this platform can improve the interaction between members of the expat family in Pudong and the local community," says Chen.
Ivan Mishunin from Russia, a professor of piano at Shanghai Conservatory of Music who has been in Shanghai for 10 years, says he expects to be able to make more friends with other expats from different fields via POYA.
One of first initiatives by POYA involves cleaning up a beach in suburban Shanghai later this year. Jiang says that members are eager to demonstrate their strong sense of responsibility to environmental protection.
Andrew Bolstein, vice-president of operations at Shanghai Disney Resort and a resident of Pudong, was nominated as the president of the association.
"My first trip to Shanghai was in 2002 and the changes I have witnessed from then to now is simply unbelievable. My two children have thrived in the city and have had the chance to see the diversity of cultures and the excitement of not only China but everything else that's coming here," says Bolstein.
"The association is really something that we should be very excited to be a part of and participate in. Hopefully, we can make a difference in the city," he adds.