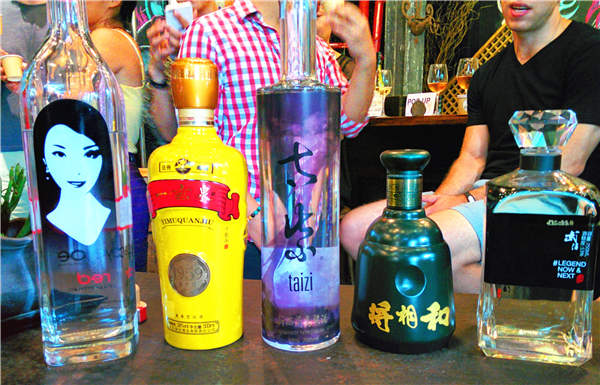 The local and foreign baijiu brands at the PopUp Beijing Tasting. Provided To China Daily
Baijiu, China's national spirit, accounts for about one-third of global spirits sales even though it is little known outside the country. World Baijiu Day aims to raise the profile of this spirit with events in dozens of cities worldwide when restaurants, bars, producers and consumers team up for 24 hours of baijiu cocktails, baijiu-inspired food and tastings, seminars and more.
Events this year will take place from Aug 1 to 8, culminating in World Baijiu Day on Aug 9.
The day was launched last year by Jim Boyce, who has run the nightlife blog Beijing Boyce and the wine blog Grape Wall of China for nearly a decade and written about China's wine industry for trade and mainstream publications.
"We have seen a growing number of trade classes, cocktail contests and special events, such as Baijiu Cocktail Week in London," Boyce says. "This interest coincides with a growing desire in China's baijiu sector for more sales, including overseas."
Last year's inaugural event featured activities in 20 cities including Beijing, Brussels, London, Los Angeles, Shanghai and Sydney. This year's party on Aug 9 is destined to be even bigger with more events and new cities joining in, including Boston, Christchurch, Marseilles and Milan.
Boyce says that in Beijing three businesses, all in Sanlitun South, will take part: The interior design shop Pop-Up Beijing will host a tasting of local and overseas baijiu brands; Gung Ho pizza will sell what it calls drunken-shrimp pies topped with seafood sauteed and flambeed in baijiu; and Jing-A Taproom will feature a beer that uses brewing yeast and the baijiu fermenting agent qu.
Venues for events overseas will include: Red Lantern in Boston; Dam Sum in Brussels; Pot Sticker Dumpling Bar in Christchurch; Peking Tavern in Los Angeles; Demon, Wise & Partners, Opium, and The Hide Bar in London; Carry Nation in Marseilles; Golden Monkey and Rice Paper Scissors in Melbourne; Blu Blu Blu in Milan; Lumos in New York; Moutai Showroom in Paris; and Vinn in Portland, Oregon.
More information at: www.worldbaijiuday.com