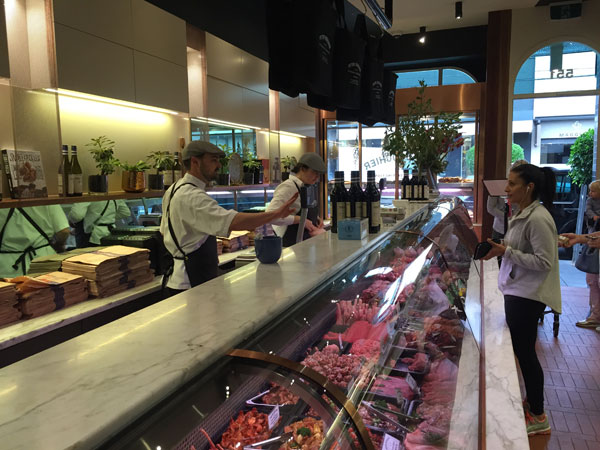 A customer buys meat at a local store. [Photo by Yang Feiyue/ China Daily]
The Shers have established their own brand, Sher Wagyu, which is now supplied directly to local restaurants and exported to dozens of countries, and one customer they have recently gained is a restaurant in Shanghai.
"We've been sending products to China for at least five years, but sales have only been regular since probably the middle of last year," Nick Sher says.
About 30 tons of the meat was delivered to the Chinese mainland over the past 10 months, he says, adding that an increasing number of Chinese are beginning to appreciate quality meat.
Now, premium high-end fine dining restaurant, five-star hotels and popular brand hotpot restaurants, particularly in China's first- and second-tier cities, are major consumers of Australia's red meat.
Australia was lucky to have introduced the Wagyu from Japan before bovine spongiform encephalopathy (BSE, or mad cow disease) hit the country.
Keeping the animals happy is key to maintaining the quality of the meat, Nick Sher says, and low-stress handling is applied throughout production.
Trees are planted to ensure the quality of the natural environment, then trees will attract birds, which will keep insects and pests away, Sher says.
Australia is recognized globally for its high quality and food safety credentials.
"It is an island nation with a natural boarder and is free from all major livestock disease, which gives us a very strong advantage in exports", says Michael Finucan, general manager of the International Market of Meat and Livestock Australia.
The country supplies quality meat to more than 100 markets, including China.
It exported 148,000 tons of beef, 31,000 tons of lamb and 29,000 tons of mutton to China last year, and Finucan forecasts stable market supply in China this year. Customized meat, such as cuts, carcasses and frozen and chilled products are sold to the country.
"China is a big country with a large population, and with many different regions with various different dinning habits and different cuisine," Finucan says. "We see China not as one market but many different markets in one country."
The meat authority has also launched training programs, promotions, seminars, workshops and cooking classes to showcase the quality and safety of Australian red meat quality and safety, as well as to disseminate information on buying it, cutting it and cooking it, Finucan says.
"The imported beef and sheep meat market in China has grown quickly, and the biggest challenge for Meat and Livestock Australia is helping educate our customers (importers) about our systems, technical buying specifications and handling and management of the product."
The final slaughtering procedure features manual and automated work, with strict sanitation at the premises of G & K O'Connor Pty Ltd in Pakenham, Victoria.
Workers are divided into groups solely responsible for cutting a specific part off an animal, each of which will go through microorganism evaluation to ensure safety.
A love of animals is what motivated Nick Sher to choose work in the industry 25 years ago.
"At the end of the day they have to die, but ... they have a really good life while they're alive, and they only have one bad day. They will die humanely."
yangfeiyue@chinadaily.com.cn