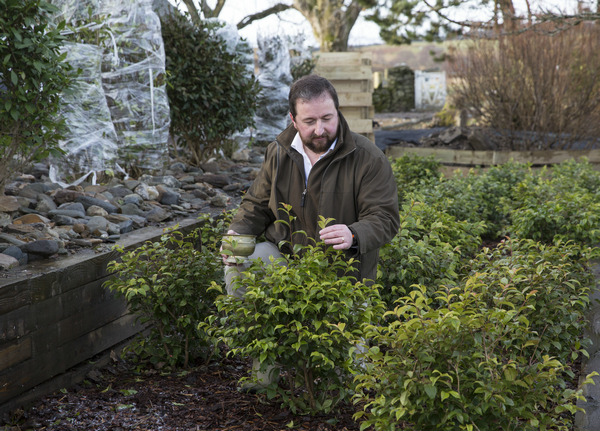 Irish entrepreneur Tam O'Braan checks for new growth on his white tea plants in the foothills of the Scottish Highlands. [Photo/Agencies]
Tam O'Braan has had several lives. Having been a soldier, an agronomist and an entrepreneur, he now grows tea in the foothills of the Scottish Highlands, and is the envy of those who once called him crazy.
Four years since he began growing tea at Dalreoch, a former sheep farm close to the small Scottish village of Amulree, the Irishman saw his tea crowned a winner at the Salon de The awards in Paris last year.
Now O'Braan sells his tea in luxury stores like Mariage Freres in Paris where it goes for 78 euros ($87) for 20 grams and London's Fortnum & Mason, where it brings £40 ($57) for 20 grams, as well as to famous hotels like The Dorchester.
"My neighbors thought I was mad," O'Braan says.
"We were told categorically by people who have been working in the tea industry for 30, 40 years, that it couldn't be done."
Scottish 19th-century botanist Robert Fortune had already shown it was possible to grow tea in Scotland but his project failed due to having the wrong plants.
Determined not to make the same mistake, O'Braan imported tea trees that grew in the foothills of the Himalayas (Camellia sinensis sinensis), before adapting them to the Scottish climate.
The plant seeds, which are similar to small nuts, are germinated outside before the plants are grown in a small unheated greenhouse.
"Those plants who originally started on the foothills of the Himalayas, that can deal with snow, are even stronger," O'Braan says.