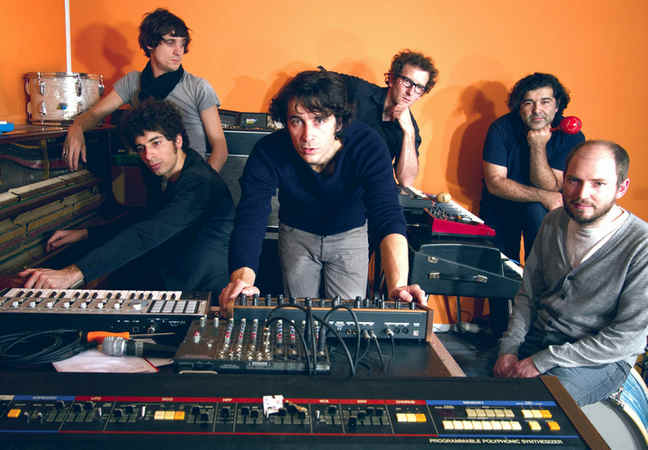 French indie band Tahiti 80 will make only their second visit to the Chinese mainland when they play at Beijing's Yugong Yishan on Friday. [Photo/China Daily]
It seemed like you couldn't go five minutes in the UK in the late 1990s and early 2000s without someone recommending that you "listen to this great new French band".
Air, Cassius, Phoenix and Daft Punk were just a few of the big names that were jumping the channel and charting in the top 10 (yes, kids, charts meant something back then).
Tahiti 80 were perhaps not the most famous, but they were definitely on the front line of this Gallic invasion at the turn of the century. Slapping on a pair of headphones and listening to their infectious brand of happy-go-lucky indie pop could put a spring in anyone's step.
Xavier Boyer, lead vocalist, and bass player Pedro Resende formed the band in Rouen while at university (the name was apparently inspired by a slogan on a souvenir T-shirt given to Boyer's father in 1980). Today, they are credited as one of the founders of the so-called French touch scene.
The group's 1999 debut album, Puzzle, made waves on both sides of the English Channel, as well as had an impact in the United States and Asia-for the latter, this was thanks largely to a remix of the single Heartbeat by Tokyo pop star Keigo Oyamada.
"We got pretty good reviews, but we were quite alien in a way," says Boyer in an e-mail interview. "We were not your typical French rock band, so a lot of people liked it without totally getting it. ... I think now people understand our sound more.
"The French touch scene was more about electronic instrumental music. I think we're the second wave, the new wave French touch if you will."
Clearly influenced by the rock 'n' roll and soul of the 1960s and '70s, the band are not afraid to step out of their comfort zone, following up their debut with the more-experimental Wallpaper for the Soul in 2003.
After six studio albums-the last of which, Ballroom, came out in 2014-the band are back on the road again. After several sell-out shows in Japan, they will be taking the stage at Beijing's Yugong Yishan on Friday.
This will not be the band's first visit to China. In the summer of 2012, they played Beijing's Strawberry Music Festival and the Zebra Festival in Chengdu, Sichuan province.
"We have fun memories from the trip," Boyer says. "Chengdu was really cool, and we loved that Panda base. We didn't visit much in Shanghai, but when we performed we had an amazing view of the skyline. We went to Beijing, but we had no time to do anything. So we're really looking forward to having another opportunity."
If you go
Who: Tahiti 80
When: Friday, 9 pm
Where: Yugong Yishan, Zhangzizhong Lu, Dongcheng district, Beijing
Tickets: 150 yuan (or 110 yuan presale)
Also on the bill: Xiao Pu