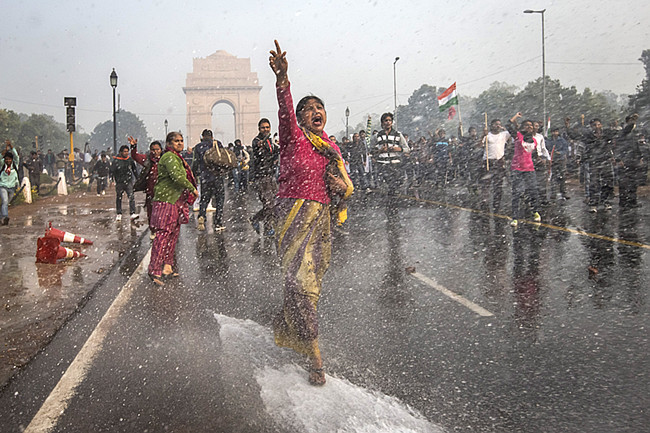 The poster image of Leslee Udwin's documentary, India's Daughter, shows a scene from the 2012 protests in New Delhi against gender violence. [Photo provided to China Daily]
Leslee Udwin's documentary film, India's Daughter, was screened in four Chinese cities in the past few weeks. It was shown nearly a dozen times as part of the ongoing China Women's Film Festival, which is an annual event in its third year, hosting filmmakers from here and abroad.
The documentary is based on the gang rape and subsequent death three years ago of a 23-year-old physiotherapy student in New Delhi. The film is banned in India.
Indian feminists who called for the ban ahead of the film's release in March argued that Udwin's airing of the interview of one of the men convicted of the crime would embolden people with similar attitudes toward women in a country that's already struggling with gender issues.
A New Delhi court sentenced to death five adult men for the crimes. And a teenage boy is in a correctional program for young delinquents for his alleged role in the attack, Indian media reported.
In the documentary, one of the adult men tells Udwin (who isn't visible on screen) that more than men, women were to be blamed for incidences of rape.
Barring India, the film's co-producer BBC broadcast India's Daughter worldwide on Women's Day. Udwin has traveled to 40 countries with the film since March 8, she says.
The British filmmaker, 58, earlier produced feature films such as East is East and West is West, themed on Britain's South Asian communities.
Her appearance in Beijing on Tuesday generated much interest among young Chinese as visible at a screening of her documentary in the city's Wangjing area.
The film festival is organized by Chinese NGO Crossroads, with help from UN Women and backed by a few foreign embassies, mostly European.
The India ban came as a shock to her, she says.
"Audiences (everywhere) have expressed shock and anger ... they have been moved by the issue (the film's subject)," Udwin tells China Daily. "I haven't seen a single person who saw this as an India-centric film."
During her interactions with Chinese audiences, Udwin said that not just violence but gender discrimination was universal.
She cited with examples of Saudi Arabia, where women aren't allowed to drive, Nigeria, where women can't open bank accounts and the United States, where a woman is likely to earn on an average 78 cents to the dollar for one dollar earned by a man doing the same job.
In China, boys were preferred over girls during the one-child policy, she said.
Her hourlong documentary ends with figures for sex crimes in different countries. And whether in developed or underdeveloped countries, liberal or conservative societies, the data she provides is appalling. In the United Kingdom, for instance, one in three girls between ages 13 and 17, has been raped or experienced sexual violence of some form, her film says.