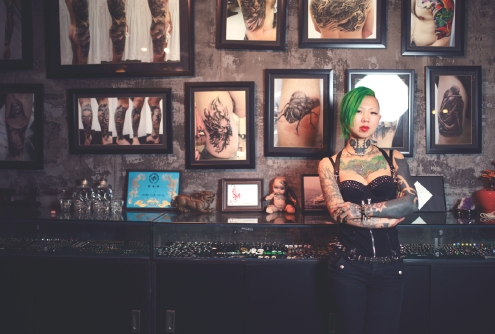 Zhuo Danting is widely recognized as one of Shanghai's leading tattoo artists.[Photo/China Daily]
Getting a tattoo is no longer associated with triads and the violent underworld as more youngsters are seeking to get inked
To many Chinese people, having tattoos is synonymous with gangsterism. It is a stereotype perpetuated by movies and television shows that depict hooligans inked with illustrations of dragons and skulls, but it seems perception has been slowly changing over the years.
A growing number of young people in China have now started to sport tattoos, embracing it as a fashion style and an artistic reflection of their identity.
"We receive people from all walks of life, including people in jobs where a tattoo is considered taboo, such as policewomen and kindergarten teachers," said Shen Weiguo, owner of Shanghai Canglong Tattoo studio.
Huang Xiaodi, a 27-year-old who runs a catering business in Shanghai, has the illustration of a heart embraced by wings tattooed on the back of her left shoulder so that she can choose when to show it off. She said that her tattoo represents her reluctance to open up to people, though she desires to be stronger.
Huang had always wanted a tattoo but did not actually decide on the artwork until she was 20 and was studying in Paris. It was only three years after she was inked that her mother found out during a visit to France. Though the latter never had a good impression about the art form, she did not get angry, partly because she saw a lot of French people with tattoos.
"She just told me not to get another one," said Huang, who still wants to get inked again. "It's my body and my decision."