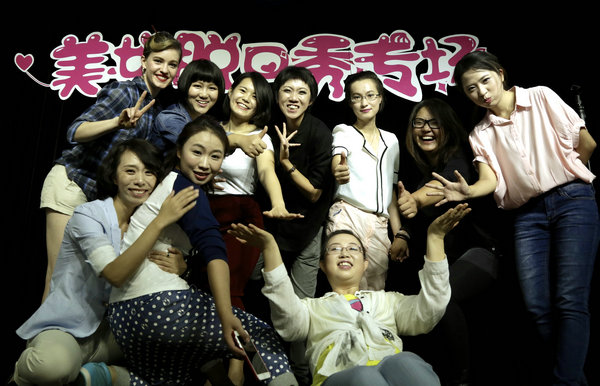 Photo/China Daily
Female comedians are forced to work harder to get laughs and respect
When Cai Yilin told her mother she planned to perform stand-up comedy at her graduation party last summer, she opposed the idea.
"She replied, 'That's not the kind of thing girls do,'" Cai, 23, says.
"She thought I should perform an elegant dance or song, particularly for the guys, instead of sending myself up. Being humorous is something that people don't expect from a woman. Instead she must be 'tender' and 'virtuous'."
That stereotype is by no means exclusive to Chinese, says Anete Elken, an Estonian who lives in Beijing.
Elken says that once in Beijing she went to a mostly-foreigner open mic session of stand-up comedy, where comedians do test runs of their jokes. One woman's performance was not that successful and the male host commented: "Don't worry, you don't have to be funny, if you look that good."
"Some people laughed but most of us found it offensive," says Elken, a bilingual improve comedian.
"It was so mean. The whole culture is, like, that men are funny and women aren't. That's why female comedians have to work a lot harder than the men to get laughs from an audience."
A Beijing stand-up comedian whose stage name is Xiaoxue says that on stage she never wears anything that is "too tight and too sexy".
"I don't want people to be preoccupied with the way I look; I want them to be listening to my jokes."
Weight is another issue that female comedians have to contend with, she says.
"If you look at comedians, for men in a way it can be a plus if they aren't that good looking. They can joke about it. There are a lot of really big, overweight stand-up male comedians. If a woman turns up on stage like that, the attitude is, "Oh, don't you really think you need to lose some weight?"
But just as men can turn that issue to their advantage, so can women, says Pan Ying, who frequently makes fun of her own weight.
"The fact that I'm joking about my weight doesn't mean I agree with their judgments about me," says Pan, co-founder of the Beijing Comedy Center.