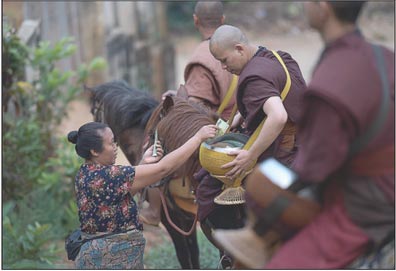 Monks riding horses collect alms along the steep slopes surrounding the 'Temple of the Golden Horse' in Mae Chan, in Thailand's northernmost Chiang Rai province. [Photo/Agencies]
Every morning in Thailand's far north, a convoy of orange-robed Buddhist monks and novices riding on horseback leave their mountain-top temple in the kingdom's notorious Golden Triangle region to collect alms.
At first glance these equestrian ascetics look like a throwback to a forgotten era-but they are in fact part of an innovative drive to help young boys in this drug-ravaged region escape addiction through horses, Thai boxing and meditation.
Once famed for its opium and heroin, now the main substance manufactured and trafficked through the Golden Triangle-and the main source of addiction in the area-is methamphetamine.
"I barely had food to eat because my dad was a drug addict and didn't work," said Ponsakorn Mayer, know by his nickname Tawan, one of the novices who rides along the steep slopes surrounding the monastery every day.
Like many young boys in this mountainous region where rampant drug-trafficking has decimated successive generations, Tawan sought refuge at the "Temple of the Golden Horse".
Now, his days are packed with meditation, horse riding and traditional "muay Thai" boxing.
Perched on a lush, green mountain in the kingdom's northernmost Chiang Rai province, the temple sits in the heart of the so-called Golden Triangle-an area comprising parts of northern Thailand and neighbouring Myanmar and Laos.
The temple's monks have become social workers of a sort in the isolated region where few government services reach.
With a Thai boxing champion to provide instruction and a stable of horses to be cared for and exercised, the monastery aims to stimulate the young boys who come from local families hit by drug addiction, alongside the more mainstream classes provided by the temple.
"Without this temple, I wouldn't have seen how vibrant life can be...my small village is full of drug problems," said 19-year-old Tawan.
The majority of novices, who often suffer from malnutrition when they arrive at the temple, are orphans or were abandoned there by their drug-taking parents.
"Hill tribe people have tough lives, it's partly why they often take drugs and struggle to care for their kids," said Pra Sutipong, the principal monk at the temple.
The United Nations Office on Drugs and Crime (UNODC) estimates that each year in this area more than 1.5 billion yaba pills-the Thai name for a tablet containing methamphetamine and caffeine-are manufactured in the vicinity.
This happens mostly in small mobile laboratories in isolated jungle areas in Shan state in neighboring Myanmar.