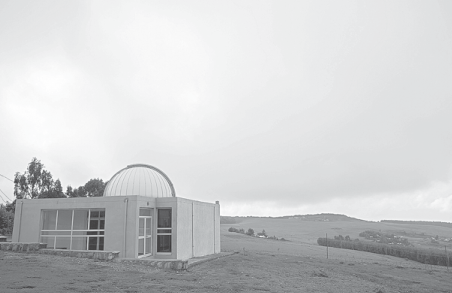 One of two reflective onemeter telescopes perched on the top of Mount Entoto at The Entoto Observatory and Research Center, which is located on the outskirts of Addis Ababa, Ethiopia. Photo By Zacharias Abubeker / Agence France Presse
High above the crowded streets of Addis Ababa, among fields where farmers lead oxen dragging wooden ploughs, sits Ethiopia's space program.
Perched on the top of the 3,200-meter high Mount Entoto, two metal domes house telescopes, each a meter in diameter.
Operational for only a few months, the specialized equipment - the first in eastern Africa - has propelled Ethiopia into an elite club of African countries to have embarked on a space programme.
For Ethiopia, Africa's second most populous nation, the program is aimed to give it a technological boost to aid the country's already rapid development.
"Science is part of any development cycle - without science and technology nothing can be achieved," said Abinet Ezra, communications director for the Ethiopian Space Science Society (ESSS).
"Our main priority is to inspire the young generation to be involved in science and technology."
ESSS, funded by Ethiopian-Saudi business tycoon Mohammed Alamoudi, was set up in 2004 to promote astronomy.
'People said we were crazy'
It has a bold mission: "To build a society with a highly developed scientific culture that enables Ethiopia to reap the benefits accruing from space science and technology."
But its supporters have had a tough ride to set it up.