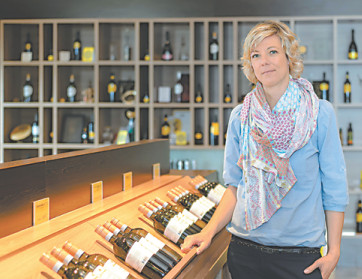 Tatjana Puklavec, managing director of Puklavec& Friends Wineries, poses in Ormoz, Slovenia, on June 19. [Jure Makovec/AFP]
From New York to Sao Paulo, epicureans have been reveling in a new generation of exciting wines from one of the least expected places - Slovenia, a vintner's paradise in full renaissance.
In fact, the small country has a viticultural tradition stretching back 2,400 years to the Celtic era, long before the Romans introduced winemaking to France and Germany.
Wedged between Italy, Hungary, Austria and the Balkans, Slovenia benefits from mineral-rich soils and a continental climate, making it particularly ideal for producing white wines.
The reason they have remained a secret until recently is largely because of Slovenia's history as a former part of communist Yugoslavia.
Under the rule of dictator Josip Broz Tito, the country's wine industry was nationalised and vineyards were turned into state-run cooperatives.
For decades not a drop was exported, and even today most of the wine is consumed locally, with each of the 2 million inhabitants drinking an average of 39 liters a year.
"We come from a country no-one knows, we have a wine no-one knows and we have grapes no-one knows, so we have to be better than the rest," said Tatjana Puklavec, who runs the Puklavec and Friends (P&F) winery in the northeastern Ormoz region, known as the "Tuscany of the East".
The P&F label has become a symbol of Slovenia's ambitions to carve out a niche in the global wine market.
Debuted at a fair in Amsterdam in 2010, the brand's white wines proved an instant hit with international crowds and are now selling all over the world.
"Buyers said, 'finally something new from The old world'," Puklavec said.