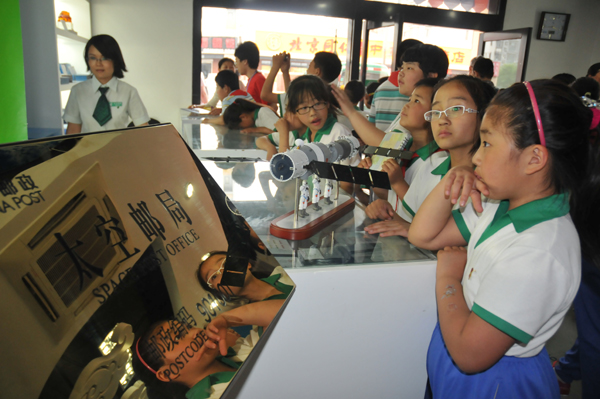 A group of young students from different schools in Beijing at a space-themed post office in Haidian district on May 24, 2013. Photo provided to China Daily
With the ongoing global slide in paper mail, China Post, the country's postal backbone is increasingly diversifying its business to stay relevant.
Among the state company's new forays is the "theme" post office that seeks to both reflect changes across China's technology-driven societies and enhance the operation's commercial prospects. Nearly 300 post offices on the Chinese mainland have been recently refashioned from a total of more than 53,000, toward that end.
The special post offices are dressed in concepts ranging from sports to space and children's animation to Chinese culture.
"The theme post office is more associated with different local cultures, but not as a large-scale operation," Bian Zuodong, director, Division of Universal Service Garantie, State Post Bureau, a central government organization that oversees China Post, says. "It is in response to the penetration of the Internet."
Making money isn't the main motivation, the 38-year-old official adds.
China Post is also developing a Web-based technology that will allow people to design postcards and write letters online before physically dispatching them to the intended recipients. Young Chinese and business executives are expected to become its main users, Bian says.
"People will have more flexibility to personalize their messages, ... they will be able to choose from different kinds of paper for letters (to be printed on) and upload photos."