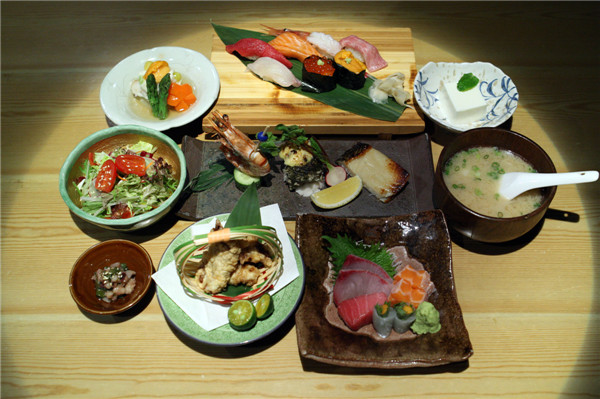 Japanese Cuisine. [Photos by Wang Zhuangfei/China Daily] 
About 80 percent of the seafood is flown in from Tsukiji Market in Tokyo every Tuesday, Thursday and Saturday, says the restaurant manager Guan Yuanyuan. So if you go, try to order the new arrivals from that morning.
Instead of serving barley tea as most Japanese restaurants in Beijing do, Midorikawa serves a light matcha green tea. The waitress told us this calming drink is a blend of half matcha and half sencha.
Organic green salad with Midorikawa's homemade Wafu dressing, a Japanese-style vinaigrette that usually consists of a mixture of soy sauce, rice vinegar and vegetable oil was flavorful enough to tickle our taste buds.
Marinated raw octopus with wasabi was very slippery and slimy, with meaty chunks of tender octopus. It's a nice appetizer to start any meal and adds a little burning sensation to the nose.
The miso soup was stunning. Definitely not from a miso packet with hot water, Midorikawa uses its homemade fishbone soup with high quality miso and fresh ingredients including onions, yam and tofu cubes, and fish meat.
The grilled silver codfish was nice, glazed with a subtle sweetness, but not outstanding.
To round off any meal at Midorikawa, don't miss the traditional Japanese dessert - almond or annin tofu. It was simply a Japanese style of tofu-like pudding. Soft, creamy, silken sweet pudding with a little bitterness from almond makes a light and delightful dessert.
The grilled and other fried items are fine, but not outstanding. However, once you try Midorikawa's sashimi and nigiri, you may no longer wish to return to those other Japanese restaurants.