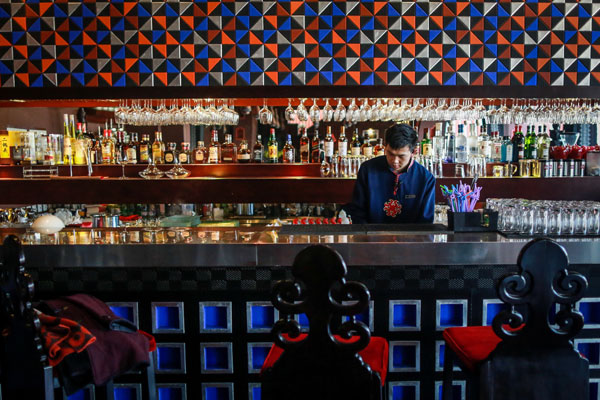 The ground floor bar.[Photo by Feng Yongbin/China Daily]
A heady mix of ethnic cuisines from Yunnan, along an ancient tea route, makes the Beijing restaurant a go-to place.
My frequent visits to restaurants across Beijing have become boring. For a while now, I've been finding food to be either delicious or simply monotonous.
But a recent late lunch at Lost Heaven helped revive my interest in food. The restaurant's ambiance created by colorful ethnic furniture and artworks thrilled me.
It is a rare restaurant that finely blends Chinese ethnic minority cuisines with Western-style presentation. Small wonder that it boosts an international clientele.
The name, Lost Heaven, was inspired by English writer James Hilton's novel Lost Horizon that's set in fictional Shangri-La, which is also the name of a stunning county in Southwest China's Yunnan province.
The restaurant is hailed for its Yunnan folk cuisines, in particular the ethnic dishes along the Ancient Tea Horse Trail through Yunnan, Myanmar and the Tibet autonomous region, such as those of the Dai, Bai, Yi, Miao, Naxi and Tibetan ethnic groups.