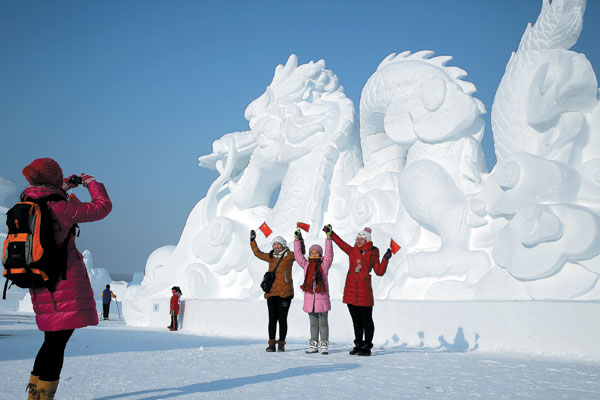 A visitor takes pictures of a snow sculpture at the Jingyue Snow World in Changchun. [Photo by Wang Jing/China Daily]
Frozen landscapes make city a cold weather destination.
Santas, pandas and Ninja Turtles don't walk into a bar.
Instead, they stand on a lake - as immense snow sculptures.
See, Changchun's winter travel is no joke.
But it's very amusing.
Winter has literally taken shape in Jilin's provincial capital.
Peking Opera performers and penguins, cherubim and seraphim, castles and palaces - a winter wonderland populated by an eclectic cast - are sculpted in snow atop the frozen Jingyue Lake for the Changchun Ice and Snow Travel Festival.
This fantastical pantheon of mostly mythical entities dwells in the Jingyue Snow World that forms seasonally atop the lake's glassy crust, which is fleeced with carvings of sheep - the coming Chinese lunar year's totem. The creatures' white forms flock beneath multistory temples and a lifesize snow replica of a Great Wall pass skiers can swish down.