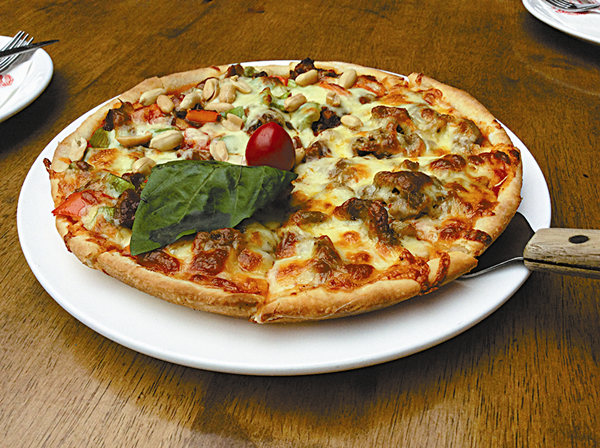 The unique kung-pao chicken and lamb-kebab pizzas have become the calling cards of Pass By Bar. [Photo by Yang Feiyue/China Daily]
Marco Polo never saw a pie like the ones at the Nanluoguxiang eatery, but these unique concoctions have become a surprise Beijing favorite.
The whimsical idea of bringing Chinese elements to Western pizza has surprisingly earned Pass By Bar a place in the Nanluoguxiang streets in Beijing.
Boasting that it serves Italian pizza, the bar sits on the main street of the hip area, roughly 200 meters away from the south gate of Nanluoguxiang, making it easy to be found in the labyrinth of streets at Nanluoguxiang.
Wang Haiyan and her husband, Xiaobiar, opened the bar in 1999, because they couldn't find a "proper" place to hang out with their friends.
"We loved to drink beers with our friends at home, but our neighbors complained of our get-togethers, calling them illegal," recalls Wang.
"So, we wanted to find a bigger, independent place and make it an extension of our living room."
The couple first set up a shop in a 40-square-meter place due to limited financial resources, and soon attracted a lot of guests from Italy and France. They moved to the current courtyard-styled location in 2000, with nearly 300 square meters with seating areas on the first floor and in the loft. A big skylight lets in plenty of daylight.
It was Wang's husband who designed the space to create a laid-back atmosphere for guests to enjoy conversation, food and drinks. Guests can also get a good taste of Beijing's hutong culture here.
The unique kung-pao chicken pizza and lamb-kebab pizza were inspirations from a US friend of the couple's.
"I had a falling-out with my husband over the new idea, because I thought pizza is a foreign food and we couldn't just mess with its traditional recipe," says Wang.
But she needn't have worried. The two Chinese-styled pizzas have been raved over by guests in China and abroad and become the calling card of the bar.