House hunting is like gambling. Till you're not doing it, you're safe. You can't lose what you don't put in the middle.
I recently completed a year of my life in Beijing. And after one year, I've just begun to feel I live in China, the land that houses the most humans in the world.
The more the people, the more the poor; the more the poor, the more the ones that want to get rich; hence, the more who compete, trying to outplay your sensibilities in order to make your money theirs, trying their best to keep it "legal".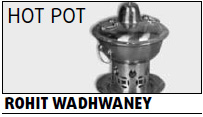 I wouldn't call them frauds. After all, it's not a crime, at least not yet, to post online fake pictures of an apartment you're trying to rent out for your client. Sell the house to the tenant, who's well aware it's not the house in the photographs, and you get one month's rent as commission. It's a fair game.
Picture this. I like a house. I agree to rent it the minute I see it. The landlord, a self-confessed "rich public servant", notices my enthusiasm and raises the rent stated in the online ad by 1,000 yuan. I storm out. The agent messages me on MSN, saying she can bring the rent down if I pay her half a month's rent.
That's when it hits me: I am in China. I better act like it. When in Rome huh!
I was born in a bordering country that's second only to China in terms of population. If I've played moustache-twirling agents there, I'm sure I can play the charming, soft-spoken ones out here.
So, I contact another agent from the previous agent's office, promise to give her half a month's rent in commission if she gets me the same house for the same rent advertised in the ad. Not 1,000 yuan more. Not even 10 yuan more.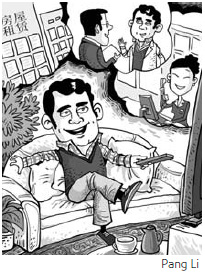 Bang on! I play a bluff and it works. The landlord agrees. Obviously, because he now only pays half the month's rent as commission to the agent. I pay the other half. The agent doesn't care where the commission comes from as long as it comes.
Meanwhile, I contact another agent to find me an apartment. I'm still playing fair. It's well within my legal rights to do so.
Let me assure you, all of this is happening within a matter of hours. If I want the house for which the landlord has agreed to "bring the rent down", I must sign a one-year tenancy contract "immediately".
I find an apartment two blocks away from the complex I fell in love with at first sight. The landlord is a company that builds residential apartments and then rents them out.
They agree to exchange a crappy TV for a plasma on condition that I pay 200 yuan extra every month. Technically, I rent the near 6,000-yuan plasma for 2,400 yuan a year.
I'll lay it down for you: 5,700 yuan a month for a massive apartment of 140 sq m. I have a flat-screen television with satellite cable, a restaurant/bar on the 21st floor, a heated swimming pool on the fifth and two really angry agents who've given me more than 100 missed calls in the past week (obviously, the previous landlord and his real estate agency aren't finding the right tenant to dupe).
What's the one thing I know about China a year after being here? It's true you can't lose what you don't put in the middle... but you can't win much either.
In China, sometimes, the pot is a stack of honesty.