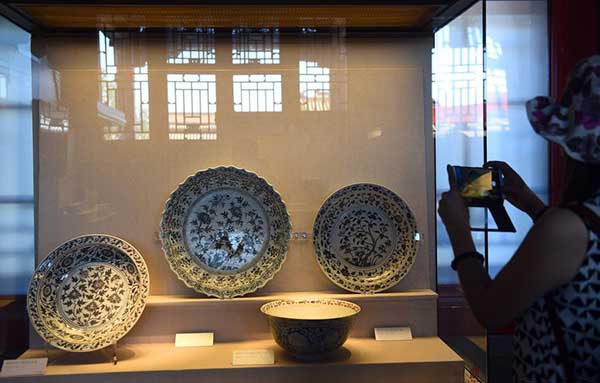 An exhibition at the Palace Museum about the Ming Dynasty imperial kilns in Jingdezhen, a porcelain town in Jiangxi province, has brought pieces restored from unearthed ceramic chips together for the first time with the museum's well-preserved royal collections.[Photo/Xinhua]
"Restoring these chips is a huge and time-consuming project, but very valuable," said Lu Chenglong, who has been studying ancient porcelain for 31 years.
Due to fragility, wars, regime change, natural disaster and other factors, a large amount of porcelain that passed the quality inspection of kiln supervisors disappeared. Without archaeological excavation of the ancient royal kilns, knowledge of the royal kilns and the porcelain they produced would remain vague, said Lu.
One blessing to Chinese porcelain researchers, Lu said, is that ceramics, either chips or vessels, appear new after a wash, no matter how long they have been buried in the earth or a sunken ship.
History records show that during the reign of the Emperor Wanli from 1573 to 1620, the heyday of porcelain production in China, there were 100,000 people working with royal and private kilns in Jingdezhen alone. Some of their products were exported to Africa, Europe and the Americas.
At the exhibition, ten vessels, including an octagonal candle holder, stand out for their Islamic influence. Lu Chenglong said they were evidence of the impact of Islamic culture on ceramics of the era.
Visitor Yuan Xiaomei from Heilongjiang province was surprised by the tough production standards of ancient royal kilns.
"The restored pieces are exquisite enough in my eyes, but still they were shattered and buried. Such high standards could be one of the reasons why our porcelain-firing techniques were best in the world at that time," she said.
Lu said that these defective pieces provide precious sources for the study of China's antique porcelain, and restoration work is moving forward.
The Palace Museum has a collection of 360,000 pieces of porcelain.
The exhibition has received more than 1,000 visitors per day.