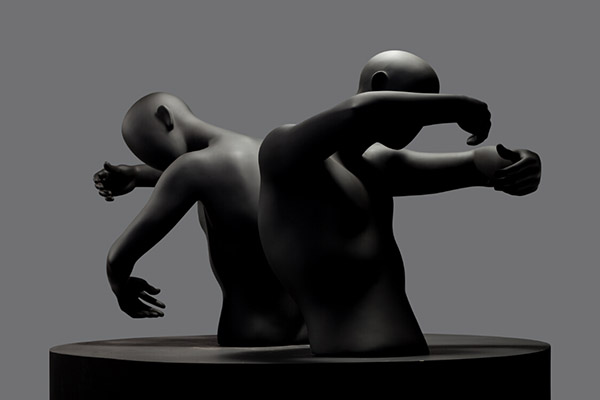 Zou Liang's sculpture Untitled reveals the lack of communication between people. [Photo for China Daily]
In the past year, Zou Liang's failed attempts to deal with his social life and art creation left the sculptor troubled.
But after about three months of personal struggle, he created an artwork at his studio in Beijing's Heiqiao Village, where many other Chinese artists work or reside. The sculpture, Cold Night, depicts a person curling against a column, and it serves as a testament to Zou's anxiety-filled mind, according to the 36-year-old artist.
"The man isolates himself in a small area and rejects the outside world," Zou says.
A coating of blue lacquer covers the subject's entire body and flows right down to the bottom of the column, implying the passing of three painful months for its creator. The color makes "people feel pure and calm", Zou adds.
"Also, it indicates that I've mostly pulled myself out of the situation."
He displays the work as an introduction to his ongoing solo exhibition, titled Not As It Seems, at the city's 798 Art Zone. The show invites viewers to read Zou's conflicted thoughts and to find their own answers to problems. "So what does the world looks like exactly?" he seems to be asking the visitors.
Among other displays-reflective of that period-is Untitled, a sculpture made after Cold Night, which reveals Zou's "illusions following the self-imposed alienation". In it, two human bodies from the waist up are placed back-to-back, their arms stretched out in a manner of hugging.