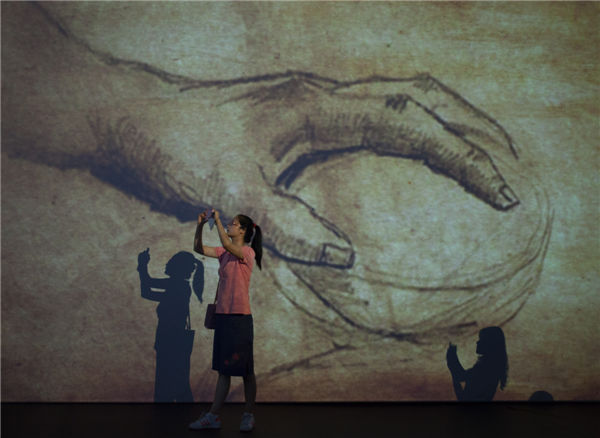 A visitor takes photos at the multimedia show of Van Gogh Alive in Shanghai in April. Gao Erqiang/China Daily
A global 'experience' show will debut in Beijing next year, unveiling the master's life and works for art lovers who can't travel to Amsterdam to view his original pieces, Deng Zhangyu reports.
Artworks and the short yet turbulent life of Dutch master Vincent van Gogh (1853-90) will be brought into life via a multi-dimensional "experience" show put together by the Van Gogh Museum.
The world tour will debut in Beijing next May and tour many other Chinese cities in the coming years, says Adriann Donszelmann, the museum's managing director.
Meet Vincent Van Gogh will feature replicas of his paintings and drawings, copies of his letters, high-tech re-creation of the process the great artist used to create his paintings and the conversations he had with people who influenced his life, such as his brother, Theo, and sister-in-law, Johanna.
In the next five years, the show will tour 46 cities around the world, including Beijing, Hong Kong, Macao and 37 other Chinese cities, it was announced last week in Beijing.
"It will include much more, the projections, the sound and the scent. All together, we'll tell a story of Van Gogh's life, a richer experience than other presentations of Van Gogh," says Donszelmann.
In April, a multimedia show of Van Gogh Alive made by the Australian company Grande Exhibitions engaged Chinese audiences in Shanghai. Using big screens to stage about 3,000 images related to the artist, the 35-minute show attracted lots of art lovers. However, some complained on social media that it was a "large Power Point" presentation of Van Gogh's works.