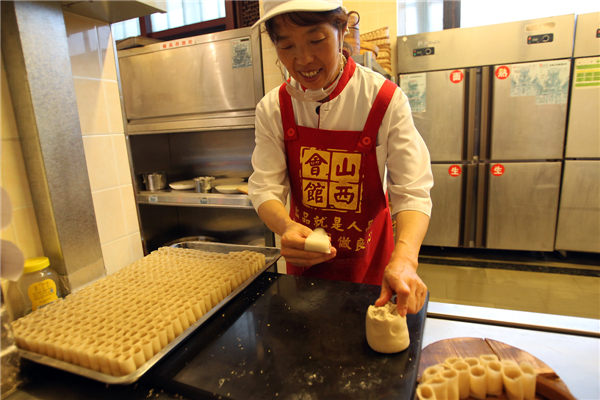 A chef from Shanxi Guild Hall restaurant makes the hand-kneaded kaolaolao, a popular dish in Shanxi province. Photos by Zhang Wei/China Daily
Noodles are mealtime stars in Shanxi province. Yang Feiyue explores the food and the fun that goes with it in Taiyuan.
Missing out on local noodles in Shanxi is like skipping the Great Wall when traveling in Beijing.
When Marco Polo took noodle recipes back to Europe after visiting Shanxi in the 13th century, could he have expected that Italy's macaroni was destined to enjoy global popularity?
Noodle-making stunts in Shanxi Guild Hall restaurant give visitors a quick insight into what Shanxi locals can do with flour.
A chef dances like a gymnast with a ribbon of noodle, which elongates as he swings it around. "The movement will ensure a uniform texture," one of our hosts tells us.
Another guy, riding a unicycle, uses a knife to effortlessly shave off pieces of a dough ball that sits on his head, and pitches them toward a boiling pot.
Dough made from 2 kilograms of flour can be pulled into a single noodle that runs 100 meters, symbolizing longevity. The noodle resembles a flying dragon as it's tossed.