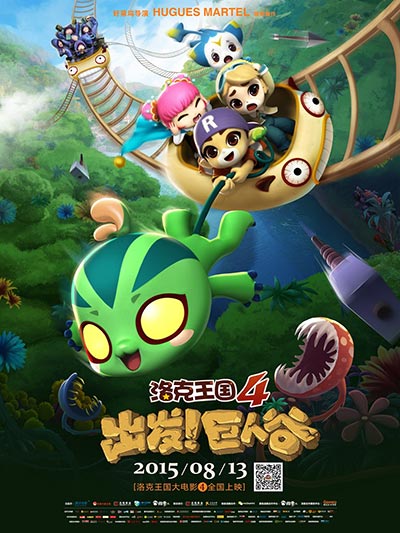 Poster of Roco Kingdom 4. [Photo provided to chinadaily.com.cn]
The film adaptation of one of the country's most popular online games will hit mainland theaters on Friday.
Roco Kingdom 4: Valley of Giants, the franchise's fourth installment, is inspired by Web game developed by the industry's giant Tencent.
Set in a magic wonderland, the movie narrates the adventurous journey of several teenager wizards to send a baby alien back home.
Sneak previews in 36 cities last week got good audience receptions. Most of the family viewers say the first five-minute giant valley scenario is amazing, reminding them of the spectacle in the sci-fi blockbuster Avatar. One highlight of the cast is Canadian director Hugues Martel, a major animator behind the Oscar nominated The Triplets of Belleville.
The film's producers revealed at a recent Beijing media event that the presale of the upcoming installment has hit a record 10 million yuan ($1.60 million), making it the highest-presaled domestic animated title of all time.
Related:
Donnie Yen and Jiang Wen to star in Star Wars anthology