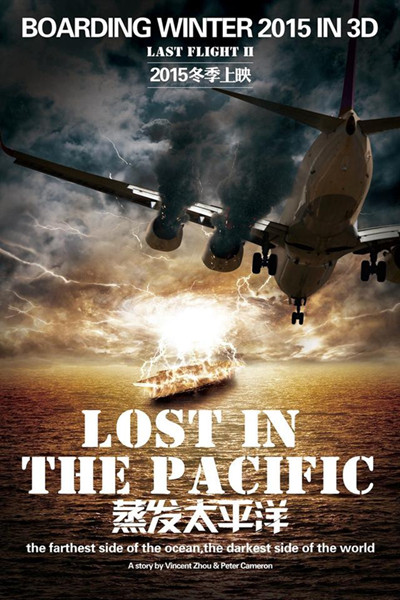 China's 1st English-speaking sci-fi film "Lost in the Pacific" aims for worldwide release[File photo]
China's 1st English-speaking sci-fi film "Lost in the Pacific" aims for worldwide release
"Lost in the Pacific", China's first English-speaking 3D sci-fi action adventure film, is aiming for a worldwide release at the end of 2015, according to its crew.
Starring Brandon Routh (actor of "Superman Returns") and Chinese actress Zhang Yuqi, the film that is directed by Vincent Zhou, sets its story in 2020 when a group of elite international passengers embark on an inaugural luxury and transoceanic flight that later gets into a seemingly unexplainable catastrophe.
Filmed at Malaysia's Pinewood Studios in the spring of 2015, " Lost in the Pacific" is finishing visual effects by UFO Internationals. Its sound editing is supervised by Oscar-nominated Kami Asgar and Sean McCormack. Oscar-winning Mark Paterson did the final sound mixing for the film.
Arclight Films, one of the world's leading international sales companies for theatrical, television and home entertainment, handles the film's rights outside China. It started the first round of sales in May at the Festival de Cannes 2015, and has garnered seven pre-order theatrical release deals in Asia, including Viswaas (India), Aqua Pinema (Turkey), Ram Indo (Vietnam) , Pioneer (Philippines) and Pt Prima in Indonesia.
Working on the film's release date worldwide, Clay Epstein, SVP of Sales and Acquisitions for Arclight Films, said "I'm not certain about whether or not we will be able to do an exact "day and date" release, however this is our intention."
A release plan in China, United States and worldwide is certainly ambitious for any Chinese film, but Arclight Films has confidence in this film. Having represented several Chinese films including "Special ID", "Snow Girl", and "Epstein", Arclight Films said "Lost in the Pacific" is very unique "due to its international casting, story telling and the quality of production. "
Director Vincent Zhou hopes the film would reach more audience worldwide. "It will be an extraordinary visual and acoustical experience with a unique adventure story for the global audience without language barriers," he explained.
Currently Arclight Films is planning a second-round promotion at Toronto International Film Festival in September and the American Film Market in November. "Lost in the Pacific" will be the first Chinese independent sci-fi film to have a same-day release worldwide if it gets picked up by distributors in the United States.