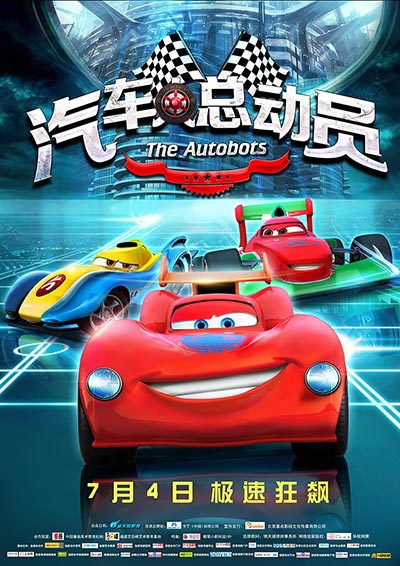 Poster for The Autobots. [Photo/Agencies]
Newly-released Chinese animation "The Autobots" has come under fire as critics dismiss the film as a copycat of Hollywood-hit "Cars".
The film is believed to be "identical" to the hit film franchise from Pixar, with similar cartoon character designs, movie title (in Chinese), and promotion posters.
A movie-goer might think "Cars" has been re-released if they do not check the posters carefully, several comments observed on microblog Sina Weibo.
The movie received an average score of 2.2 points out of 10 from around 2,500 reviews on movie portal Mtime.com, China's version of IMDB.com. By comparison, "Cars 2" scored 7.9 points when it was released in 2011.
Judging from its 30-second trailer, the animation falls far below the average domestic quality, steering clear of the production value seen in Pixar's "Cars."
The Walt Disney Company, which owns Pixar, has expressed concern over the potential copyright, saying "we share the same concerns as many web users and movie fans in China, but have no further comment at this stage."
However, Zhuo Jianrong, director of the movie, denied all accusations and insisted he had never watched the movie "Cars". He said his movie was independently produced and the whole story was totally different, ironically saying his goal was to "teach children about thinking and innovation".
"If somebody else looks like you, does that person violate the laws?," Zhuo said in his defense.