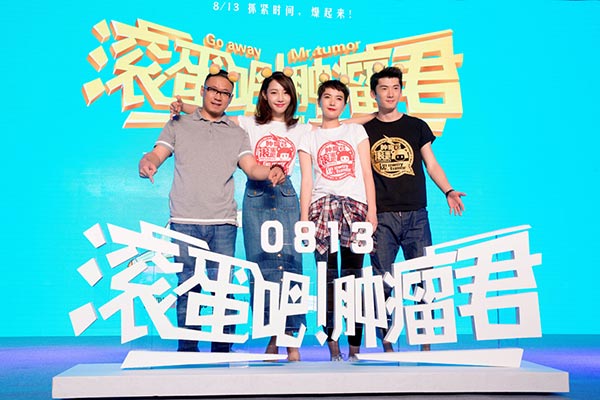 Director Han Yan(left), lead actress Bai Baihe (left second) and other two stars pose for the upcoming movie. [Photo provided to chinadaily.com.cn]
A Chinese movie — Go Away Mr. Tumor — after a book by the same name, is scheduled for release on the mainland on Aug 13.
The book is a comical take on its late author Xiong Dun's fight against cancer, with many reviewers calling the book, "inspiring and heart-warming".
Rising Chinese actress Bai Baihe plays the protagonist in the movie, of which Chinese-American actor Daniel Wu is also part of the cast.
The book, read in parts about 10.8 million times on China's popular online forum Tianya, was published in September 2012. That year, Xiong, who suffered from lymph cancer died on Nov 16.
"Xiong was very glad and excited to see her personal experience adapted into a movie," director Han Yan told a media conference over the weekend.
But she passed away a few days before the shooting began, he added.
"It's my first time to play a role that's based on a real-life story. Xiong examines the meaning of life and love," Bai said at the same event.
According to the movie's producers, a play and a TV series, both based on the book, will follow.
Related:
Will you watch a movie based on dictionary?