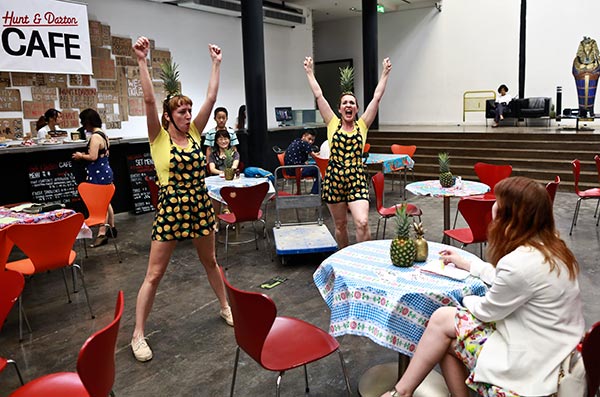 British performance artists Holly Darton (left) and Jenny Hunt, with pineapple tops strapped on their heads, entertain audiences with their comical act at the Ullens Center for Contemporary Art in Beijing.[Photo by Feng Yongbin/China Daily]
Beijing residents get a view of Britain's informal performance art, Valerie Osipov reports.
It's called performance art and is a bit hard to define, because it tends to be interdisciplinary and informal. But loosely put, it's a field where people engage in live action to express themselves to audiences through music, dance, poetry, theater, painting and more. It is said to have emerged from a movement against the commercialization of art.
Audiences aren't expected to pay for the performances, some of its practitioners say.
Andy Field, a performance artist, was inspired by the endless opportunities that live art provided him to create Forest Fringe, a large community of performance artists, along with two similar artists, Deborah Pearson and Ira Brand.
In 2007, the British group first performed at the Edinburgh Festival.
Last week, the trio brought a few Forest Fringe artists to Beijing.
Their gig was held at the Ullens Center for Contemporary Art in Beijing's 798 art zone, where Forest Fringe's performance was themed "risk and experimentation". It showcased their creativity in a lighter vein.
"A lot of the spirit of Forest Fringe is that we've been trying to create a playfulness and accessibility within this practice so that you can laugh with and at us," says Field.
"There is still this seriousness that's maybe associated with performance art. But we're suggesting that it doesn't have to be the opposite of fun."
This idea was visible in his own piece, a booklet of directional cues inviting the reader to perform duets with complete strangers around the gallery. Whether kept in your imagination or played out in reality, the concept is to develop intimate connections with random individuals in the surrounding crowd.