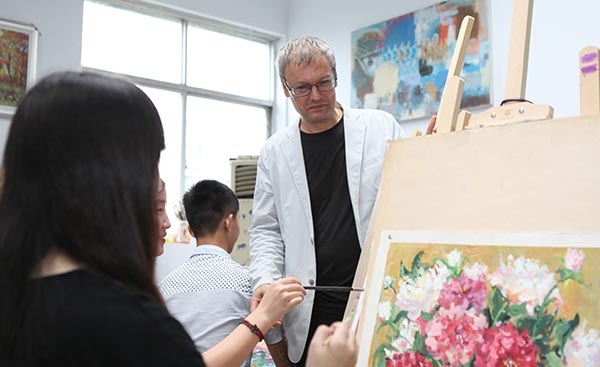 Vladimir Gannin shares his passion for painting with his young students at Hunan Institute of Technology and Science.[Photo provided to China Daily]
A Russian teaches Chinese the art of oil painting. Yang Yang reports in Hunan province.
It is a rainy morning in June, when Vladimir Gannin carries one of his paintings to Hunan Institute of Technology and Science in Central China's Yueyang city.
His students here are learning about oil works depicting flowers and vases.
The 47-year-old Russian teacher of oil painting then puts down his piece and asks his students to look at a wall of their campus studio, where some of Gannin's unfinished works are displayed.
Among them is one on which he has painted feng shui and yin and yang symbols, a gold fish and a gold toad representing wealth and good luck for Chinese.
His works are rendered postmodern with a mix of Chinese and Western cultural elements.
"Chinese people have a very good system of feng shui. People believe in it especially in the south in places like Guangzhou, Hong Kong and Macao," he says.
But Gannin hadn't noticed the feng shui system until he held an exhibition of his paintings in Guangzhou a few years ago, he says. A local man there went up to him and asked to buy six of his artworks. But the sale didn't proceed as the man wanted to return with a friend the following day to get the paintings vetted.
When that man and his friend arrived, they decided that instead of six, only two paintings would be purchased by them.
"It turned out that the man's friend was a feng shui master. He said, there was a knife in one of my paintings, which isn't considered good for feng shui, and that there was a pear in another, which was also a bad sign," Gannin recalls.
A native of Vladivostok, Russia, Gannin's association with China began more than a decade ago, when a group of artists from Northeast China's Jilin province went to visit his hometown. As the chairman of an under-30 artists' association, he received the Chinese artists and showed them some art studios and paintings.