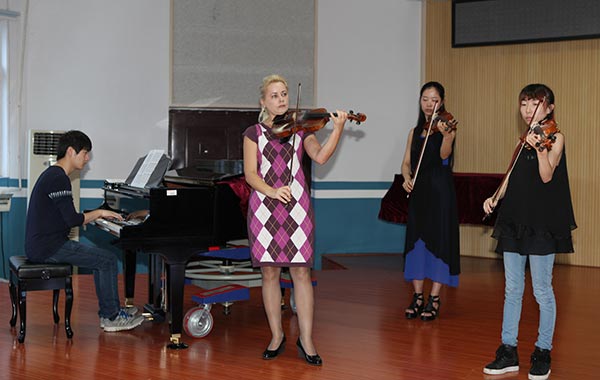 Anna Gannin, wife of Vladimir Gannin, teaches violin at Hunan Institute of Technology and Science.[Photo provided to China Daily]
In 2001, at the invitation of the same Chinese painters, Gannin went to Changchun in Jilin, a place he found too cold, even for a Russian. But by March 2002, he got the chance to teach oil painting in warmer Hunan. Before Changchun, Gannin knew China mainly through Chinese paintings and kung fu, which he practiced for a while at college.
"When I first saw Chinese paintings, I thought Chinese artists painted huge mountains and waterfalls with their imagination, but when I went to Zhangjiajie in Hunan and to the Huangshan Mountain in Anhui province (East China), I realized there indeed exists that kind of landscape," Gannin says.
At Hunan Institute of Science and Technology, one of Gannin's paintings shows his classification of society based on income. At the bottom are the low-income ordinary people, the next level is for the group that supports and actively engages in politics, the next level has "apolitical, creative" people, according to the artist's impressions, and on top of them are those that run feng shui shops, preceded by more enterprising businesses.
The more upwardly mobile level has Hollywood star Brad Pitt, British super model Naomi Campbell, and members of the Rolling Stones band. At the second-highest level, there are six of the world's richest people including Bill Gates and finally at the very top are US businessman J P Morgan and the Rockefeller family.
"The picture is the revolution of money," he says. "I belong to a low group - the artists."
When asked about his personal style, Gannin points to a small Buddha statue he painted on a big abstract of the Buddha. The small statue may look like its printed, but it's actually painted.
"I love painting in that way, but I also do classical oil paintings because I need to show the techniques to my students."
Gannin has been living with his wife, Anna Gannin, in Yueyang for the past 13 years. His wife has been teaching violin at the same institute. She says when the couple arrived in Yueyang, the green trees and blue lakes made them want to live here. In her younger days, she read ancient Chinese poems in Russian and fell in love with them.
Now, Anna Gannin is trying to translate Chinese poems into Russian, paying most attention to the sound of the words. She herself is writing a Chinese poem that she will recite at a future Russian poetry contest.
At their home, Anna Gannin is seen trying to find her favorite poem on a Huawei cellphone gifted to her husband by President Xi Jinping. In May, Vladimir Gannin was invited to meet Xi in Moscow, where the Chinese leader was attending the 70th anniversary celebrations of the World War II victory. He received an award for Sino-Russia friendship and also the cellphone.
"It's a great honor for us," Anna Gannin says.
(China Daily 07/10/2015 page20)