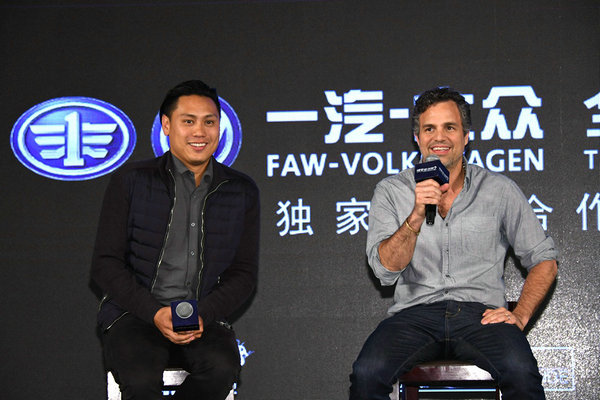 Oscar-nominated actor Mark Ruffalo (right, starring as a former FBI agent) with Chinese-American director Jon M. Chu at a promotional event in Beijing. [Photo provided to China Daily]
Chu also says that most of the magic sequences, such as Ruffalo being put into a suitcase and being submerged underwater, and a female illusionist "cutting off" her head, were filmed without using digital technology, despite the now common use of computer-generated imagery in Hollywood movies.
There was very little space for Ruffalo. "It was dangerous," the director says, using his right palm to show the height in the suitcase.
He says that, while in the past you saw magic only in front of a curtain, the movie lets you see it from behind the curtain.
Chu adds that after spending two years working on the film, his view of magic has changed.
"Magic is not only magic as we make clear in the movie. Magic is created by people who have a high level of understanding about storytelling through technology, science and presentation," he says.