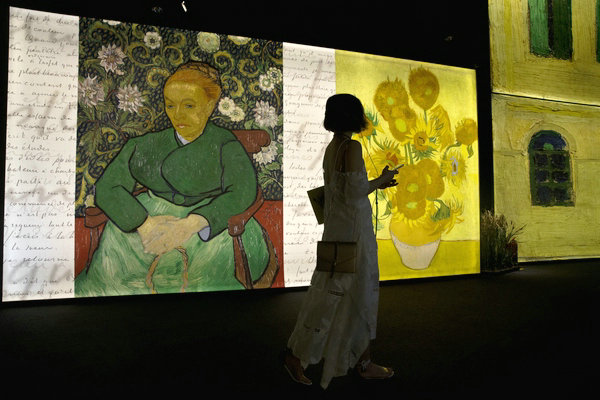 A visitor at the Beijing show. [Photo by Feng Yongbin and Deng Zhangyu/China Daily]
A shot rings out in the yellow wheatfields trailing a group of crows in the sky, with winds blowing and the smell of straw floating in the air. Then you hear the voice of Dutch artist Vincent van Gogh, who has just shot himself in the chest, revealing how desperate he feels.
This is the opening of a show on the life of the Dutch genius of colors, using hi-tech effects to give visitors a glimpse of Van Gogh's world.
The interactive show, Meet Vincent Van Gogh, produced by the Van Gogh Museum had its world debut in Beijing on Saturday. After Beijing, it will tour about 30 destinations in China, including Macao and Shanghai, over five years and then travel across the world.
"We do it from the heart and from the head. We do lots of research on Van Gogh and know him well. We want to share it with as many people as possible," says Axel Ruger, director of the Van Gogh Museum in Amsterdam.
"It's designed for places where there are no works of Van Gogh. People don't have to travel to Amsterdam to know the great artist."