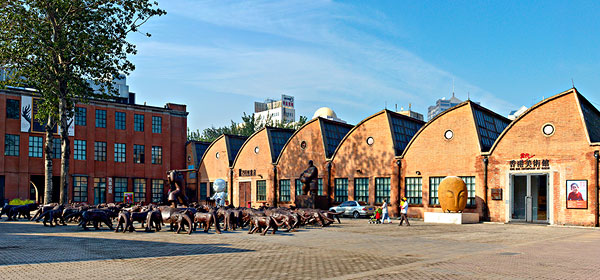 An open square at 798 Art Zone in Beijing. [Photo provided to chinadaily.com.cn]
Beijing's largest art district, 798 Art Zone, will host its first evening community event on Saturday where 11 galleries and museums will keep their doors to the public until late night hours.
Summer Art Night is collaboration between art galleries and museums residing in 798.
"It's a way of giving back to the art district", said M WOODS art director Presca Ahn, who was one of the early proposers of the event.
"I wanted to do a neighborhood 'block party', where the whole neighborhood pitches in to do a fun outdoor event together with food, music, and local culture," she said.
Ahn told China Daily website that the idea was put into motion by the founders of M WOODS, who are chiefly sponsoring Summer Art Night, and they hope the event will become a summer tradition.
"We want more people to learn about 798 and to love it here," she said.
On June 25, visitors can view free exhibitions on display from Galleria Continua, Boers-Li Gallery, Goethe-Institut (China), Hadrien de Montferrand Gallery, Long March Space, Magician Space, MOU Art, Pace Beijing, Platform China Contemporary Art Institute, and Tang Contemporary Art.
Among the many exhibitions, Ahn suggests two special performances: Roman Hagenbrock at Goethe-Institut and Amy Grubb at Galleria Continua.
The exhibition will open from 8 pm till 11 pm on June 25 at the galleries' respective locations.