The Grand View sale of old Chinese artworks made 667 million yuan, exceeding the modern art total for the first time since the sale's launch. Lin Qi reports.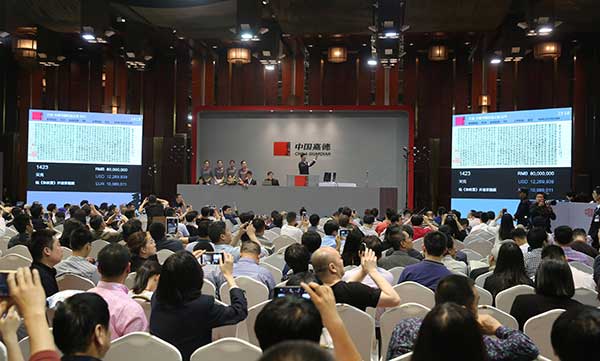 The Grand View sale of Chinese painting and calligraphy on May 15 generates several high prices, including 92 million yuan for Ming Dynasty calligrapher Song Ke's album.[Photo provided to China Daily]
On May 15, the Grand View night sale of Chinese paintings and calligraphy, staged twice a year by Beijing-based China Guardian Auctions, saw a packed salesroom. So those who arrived late had to stand in the back. When the first part of the sales event - comprising modern works - ended, many walked out of the room, leaving dozens of empty seats.
But that meant the most exciting part of the auction was just about to get started.
The second section, comprising classical works, typically referring to pieces produced during and before the Qing Dynasty (1644-1911), generated three big transactions that night.
Jushi Tie, a letter by Song Dynasty (960-1279) politician Zeng Gong, grossed 207 million yuan ($31 million); a calligraphy album in caoshu (a running script) by Ming Dynasty (1368-1644) calligrapher Song Ke sold for 92 million yuan and an album of calligraphed Buddhist sutras, poems and paintings by Tang Dynasty (AD 618-907) and later scholars fetched 57.5 million yuan.
In the classical art section - where 15 of the total of 45 pieces remained unsold - the total takings were 667 million yuan, exceeding the modern art takings for the first time since the Grand View sale was launched in 2011.