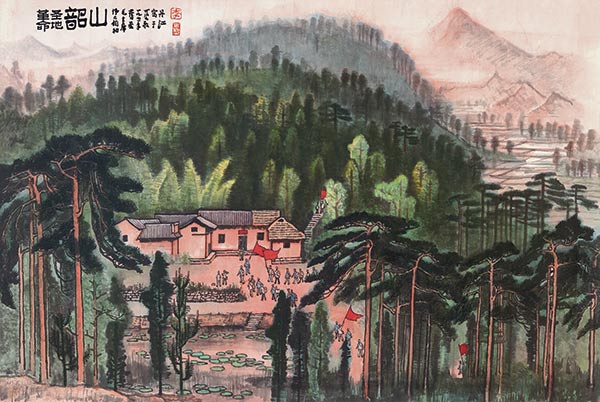 The painting Shaoshan Mountain, by Li Keran. [Photo provided to China Daily]
A "red classic" ink-and-color landscape by Chinese painter Li Keran (1907-89) was sold for 83.9 million yuan ($12.8 million) at a Beijing auction on Monday night.
The painting, titled Shaoshan Mountain, the Sacred Land of Revolution, topped a sale of modern Chinese ink and water paintings staged by the Beijing Council International Auction.
The 1-meter-long painting was created in 1971 and portrays a scene from the mountainous Shaoshan, in Hunan province, where the late Chairman Mao Zedong was born and spent his childhood.
At the center of the painting, Li drew Mao's former residence, which attracts groups of visitors who raise red flags high into the sky.