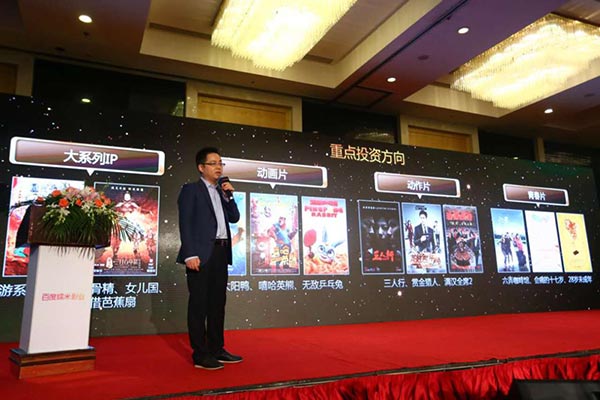 Xu Yongming, President of Baidu Nuomi Pictures. [Photo provided to China Daily]
Baidu Nuomi Pictures, the film arm of China's largest search engine, recently announced it has established a 2 billion yuan ($303.4 million) fund to invest at least 30 titles.
Xu Yongming, president of Baidu Nuomi Pictures, said the fund will be invested under the market risk predictions calculated from big-data analysis, as well as the firm's judge of the future development of the Chinese film industry.
He also revealed the fund will be mainly used on some lucrative genres, including animations, actions and youth romances adapted from IP contents, with a total revenue return estimated up to 10 billion yuan.
Speaking that internet companies have their advantage to analyze moviegoers' consuming habits, Xu takes Monkey King 2 as an instance.
He said the cyberspace figures show that movies adapted from the Chinese classical novel Journey to the West have proved their market popularity since 2013.
Xu added Monkey King 2 proved the firm's market prediction from cyberspace researches was right. The fantasy film is so far the fifth highest-grossing movie this year.
Related:
'Warcraft' continues to lead Chinese box office