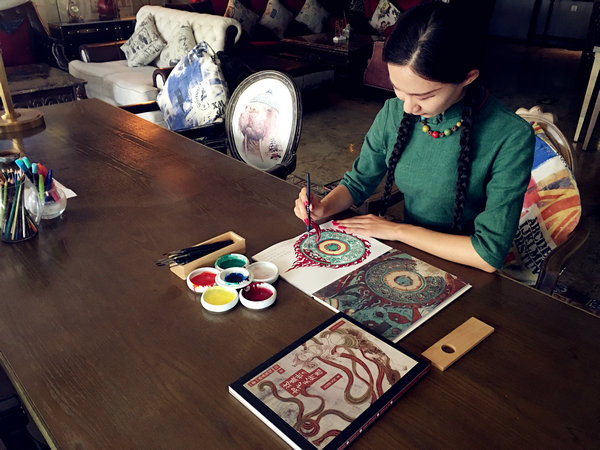 The Dunhuang Academy has produced An Age of Prosperity, as Flying Apsar as Wish, a coloring book based on the deity as depicted in the Dunhuang frescoes. [Photo provided to China Daily]
At a recent event, Ding Xiaohong was busy showing audiences Buddhist sculptures and frescoes from Dunhuang, which were replicated using 3-D printing technology.
Ding, who works with the Dunhuang Academy in Northwest China's Gansu province-the institution responsible for the preservation and research of the Mogao Grottos-was doing a presentation on the world cultural heritage site at the recent 12th Five-Year Plan Scientific Innovation Exhibition.
Besides the replicated sculptures and frescoes, the academy's display at the exhibition also showcased 3-D stereoscopic images of the caves.
And it showed a new book recently produced by the academy.
"It's a coloring book based on the flying Apsaras in the Dunhuang frescoes," he says, pointing to a book exhibited with other creative products produced by the academy in recent years, such as a calendar published in 2014 and a magic cube, both based on the grottoes.