Andy Warhol's Outer and Inner Space is one of the highlights at the show Time Test: International Video Art Research Exhibition in Beijing. [Photo provided to China Daily]
In an era where people can make videos on their smartphones, what's the difference between a video taken by an artist and that by an untrained person?
An ongoing show at the art museum of the Central Academy of Fine Arts in Beijing may answer that question through the presentation of videos made over the past century.
Time Test: International Video Art Research Exhibition features more than 60 artists' video works from home and abroad and tries to present the development of video art since the 1960s.
It consists of two sections: One, from 1965 to 2015, which presents significant Western video works, and Chinese video art since the 1980s.
At the entrance of the exhibition space is placed Andy Warhol's Outer and Inner Space, a half-hour video that he shot about a celebrity woman talking to herself on TV. It's one of the first videos done by the American pop artist in 1965. He is considered among the world's pioneers in the visual art movement.
Then, there is Marina Abramovic's AAA-AAA, in which the "grandmother of performance art" is seen screaming with her partner Ulay.
The section on Western video art in the past 50 years shows about 20 influential artists' works, including Nam June Paik, who was the first artist to use a commercial portable camera to shoot videos, famous female artist Joan Jonas and some emerging artists continuing to push this kind of media forward.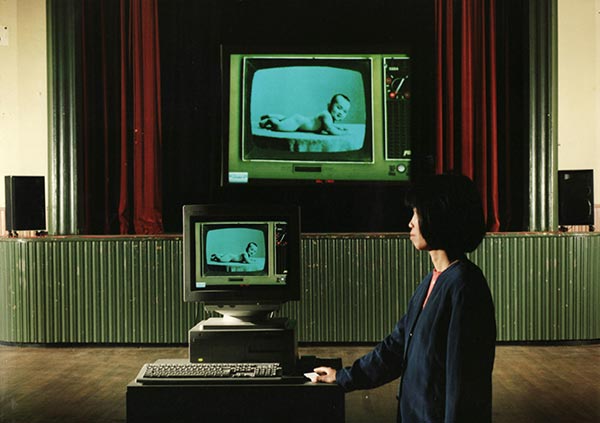 Time Test: International Video Art Research Exhibition is held in Beijing.  [Photo provided to China Daily]
This section was curated by Caitlin Doherty from Broad Art Museum at Michigan State University and shown there earlier this year.
Although artists in Europe and America still form the major group that exerts influence on video art, Chinese video artists have been emerging since the 1980s and the trend is only growing, says Wang Huangsheng, director of the art museum at the Central Academy of Fine Arts.
Video art in China grew in three phases over the past 30 years. In the 1980s, artists for the first time accepted this as an art form. Then during the independent film movement and experimental film wave of the 1990s, many experimented with video art. But the 21st century really brought about the transformation when Chinese artists started to produce films while film directors turned to film installations.
Song Dong, a Beijing-based artist known for combining various art forms, says he made his first video on his wedding day in the 1990s.
"To me, it's the creative and experimental way of shooting that makes video an avant-garde art form. The show here is a perfect example of such experiences," says Song, whose one exhibit is the video work, Concern and Monitoring, which uses a camera to record a hidden monitoring camera in his house.
The exhibition has a special part that sheds light on video art in Hong Kong by presenting works made from 1989 to 2014, including films, animation works and documentaries.
If you go
9:30 am-5:30 pm, Tuesday to Sunday, through Aug 28. Central Academy of Fine Arts, 8 Huajiadi South Street, Chaoyang district, Beijing. 010-6477-1575.