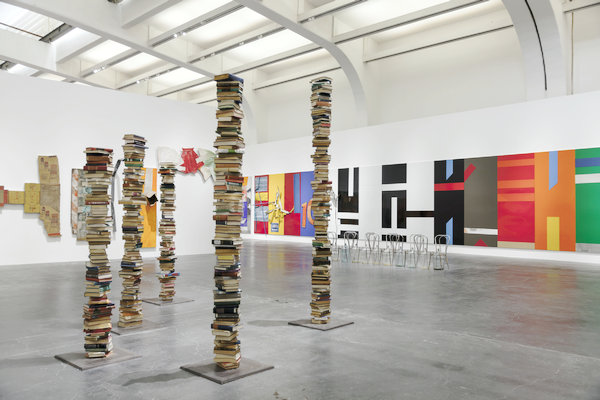 [Photo provided to China Daily]
Recalling his first exhibition in China a year earlier, US artist Robert Rauschenberg (1925-2008) said in a New York Times interview in 1986 that people from the National Art Museum of China-where his show was to open-were so excited at his idea that they kept providing him more exhibition space.
The additional costs of transportation and security put him under huge pressure.
The final display at the Beijing-based museum included 47 huge paintings and sculpture installations.
The three-week exhibition over November and December of 1985 attracted more than 300,000 visitors, many of whom saw their first pieces of Western contemporary art, which were very different from the academic artworks they were used to.
Through this groundbreaking exhibition, Rauschenberg-hailed as one of the United States' most influential artists-was engaged in the cultivation of China's emerging generation of contemporary artists.
It was one of the events that gave rise to the '85 avant-garde art movement.
Since then, the Chinese contemporary art scene has evolved radically.
Many young artists who saw his show three decades ago are today prominent art figures with international recognition.
Now, Rauschenberg's art has returned to China through his second exhibition here. It reviews his communication with the country and invites people to look at the world through his vision.
The retrospective show at the Ullens Center for Contemporary Art in Beijing's 798 art district is seen by center director Philip Tinari as one of the most important shows in the gallery.
Among the works at the Rauschenberg in China show is a set of color photos titled Studies for Chinese Summerhall, which the artist took during his first visit to China in 1982, and which were also on show at the 1985 exhibition.
The pictures were taken during a five-week trip during the Rauschenberg Overseas Cultural Interexchange, a project he launched in the early 1980s to gather inspiration through traveling and exhibiting in 10 countries.