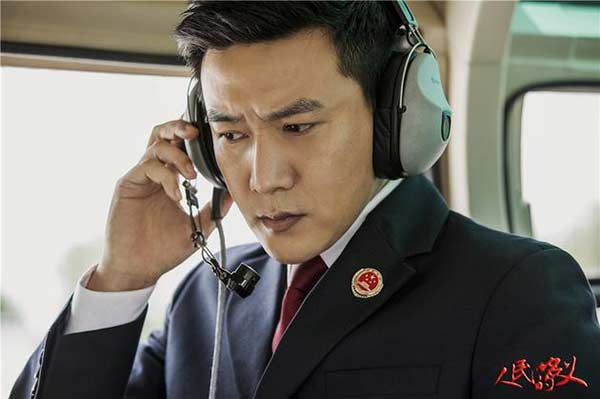 Stage photo of In the Name of the People. [Photo from web]
A Chinese TV drama series based on the country's fight against corruption and on other political developments is poised to challenge the popularity of the US hit House of Cards.
The new series, In the Name of the People, is produced by the Supreme People's Procuratorate's Film and Television Center. It features about 100 roles and is being filmed with a budget of 120 million yuan ($18.46 million).
Fan Ziwen, deputy director of the center, said it is the first domestic production to portray a State-level government official as a villain, making it a topic of heated debate.
The series has attracted widespread attention, as the topic of corruption had largely faded from TV screens in China after the media watchdog ordered a reduction in the number of such shows in 2004.
Zhou Meisen, screenwriter for the new series, said such productions have not been screened for a decade amid a nationwide increase in more-commercial shows. But they have reappeared with the introduction of intensified efforts to fight corruption.
Fan said, "Audiences will not see the face of the 'tiger', or State-level official, but only hear his voice."
Actors Lu Yi and Zhang Fengyi take the lead roles in the series, which has completed filming and is at the post-production stage. It will begin airing later this year.
Fan said it is being shown to reflect the central leadership's determination and the measures taken to fight corruption since the 18th National Congress of the Communist Party of China in late 2012. It also portrays anti-graft work at home and abroad.
In the past three years, corruption has led to the downfall of a series of officials at provincial or ministerial level, including Zhou Yongkang, the former security chief, who was sentenced to life in prison in June last year for graft, abuse of power and disclosing State secrets.
Besides the "tigers", corruption among officials at lower level, or "flies", will feature in the series.